Perspecta points to big Army win as early sign of success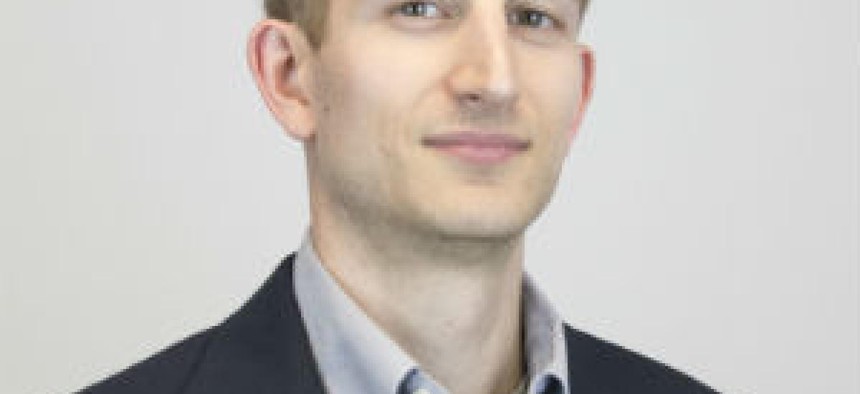 Just eight months old and Perspecta can already point to a $900 million Army win as just one sign that the logic behind the three-way merger is already paying off.
Nearly every major consolidation move in the government IT and professional services market includes a rationale that coming together to make a larger company equals better positioning for significant contracts in the hundreds of millions of dollars.
Almost eight months since they opened for business, Perspecta is now touting one of those wins as evidence that their creation out of a complex three-way merger was the right path forward for them.
During Perspecta's third fiscal quarter earnings call with investors Wednesday, CEO Mac Curtis said a protest against their win of a potential five-year, $900 million contract for cyberspace operations support to Army Cyber Command was lifted. No details on the incumbent or protester were given, but Curtis told analysts this award represents all new work for Perspecta.
"This is to basically help the Army Cyber headquarters set up their whole infrastructure and to work not only with Army Cyber Command headquarters, the Joint Forces headquarters and all the support and components and partners of the (Defense Department) cyber mission," Curtis added.
"It's helping with the systems, information assurance, the (communications) support. It really is helping them establish the command."
That now-confirmed award underpinned a quarter ended Dec. 31 that saw Perspecta book $1.6 billion in contract awards for a book-to-bill ratio of 1.6x -- the rate at which their backlog grows versus drawdowns to recognize revenue. Any number greater than one indicates a foundation for sales growth.
Herndon, Virginia-based Perspecta also now expects revenue of $4.235 billion-$4.26 billion on a 17.1-17.3 adjusted margin of earnings before interest, taxes, depreciation and amortization expenses. This would be easily the highest adjusted EBITDA margin among publicly-traded government services companies and approaches what CSRA achieved before its acquisition by General Dynamics last year.
When Perspecta launched in June of last year, Curtis and other executives touted the company's focus on applied research-and-development work and intellectual property as what sets them apart from peers.
The key linchpin to that approach is Perspecta Labs, the company's internal R&D arm that traces its roots to Bell Labs. From there, Perspecta includes many of those creations in bids and ongoing projects.
If Curtis' comments Wednesday are any indication, the work for Army Cyber Command could also be a showcase for Perspecta's thesis in the market. After the program gets settled, "then we'll really be able to kind of integrate a lot of the innovative tools that we've developed in Perspecta Labs," Curtis said.
Having this large program in tow could also help Perspecta mitigate some risk stemming from its largest recompete: the new iteration of the Navy's Next Generation Enterprise Network contract to run the branch's global Intranet also used by the Marine Corps.
Proposals from teams led by Perspecta, Leidos and General Dynamics IT were due to the Navy late last month. An award for the estimated $3.4 billion services piece of "NGEN-R" is anticipated later this year and Perspecta has the current contract until May 2020. NGEN represents at least 15 percent of Perspecta's revenue.
Current NGEN partner AT&T is back in the fold for Perspecta's team that also includes Microsoft, Amazon Web Services and Northrop Grumman. Perspecta Labs is also involved in the parent company's defense of this contract.
The recent loss of a $2.9 billion NASA end-user IT services contract to Leidos also came up during the call's question-and-answer session. Curtis said the company's debrief with NASA is scheduled for Thursday (today) and hence did not say much more about what the company might do next. NASA announced the award Feb. 8.
There was one thing Curtis did seem to nudge the door open on to a small extent: what Perspecta might do in terms of acquisitions. Debt repayments and dividends for shareholders still are higher on the capital deployment priority list than possible deals, he said.
But while he does not "see anything happening in the very near future," Perspecta is "looking at things that can connect the dots" between market areas it already has a foothold in. So any deals would likely fall under the bolt-on, capability-focused category rather than another big play for scale.
"We're really focused on cloud IT transformation (and) cybersecurity. The third piece is really focused on these tools that we've got and to help enhance the mission, trusted workforce and then looking at opportunities in space hazard protection, those kinds of things," Curtis said. "So nothing right now, but with our heads above ground, we're starting to look around."
Third quarter revenue for Perspecta totaled $1.07 billion with an adjusted EBITDA margin of 16.9 percent.