CACI's Asbury on the need to embrace change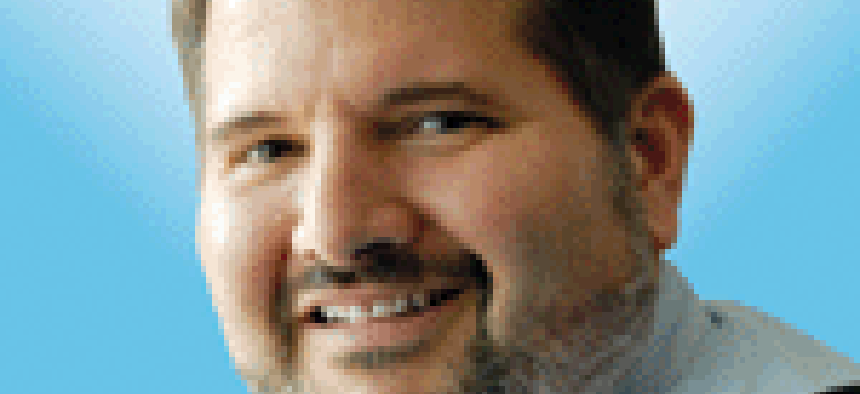 CACI International CEO Ken Asbury shared how his company has changed to meet the shifts and demands of a rapidly-evolving market.
It's not every day you can sit down with CACI International CEO Ken Asbury and dig into the trends driving today's market.
At our Washington Technology "2019 Outlook and Beyond" event Friday, Asbury shared his vision for CACI and how companies need to evolve to stay current and be successful.
He was our keynote speaker for the event which also included a panel of policy experts from the Professional Services Council, the National Defense Industry Association and the IT Alliance for Public Sector. A second panel included PV Puvvada, president of Unisys Federal; David Dacquino, chairman and CEO of Serco Inc.; and Greg Souchack, vice president with IBM Federal Services.
We'll be writing more about all of these speakers in the coming days, but today I'm going to start with Asbury.
I moderated a fireside chat and my questions focused on how CACI has changed and what that says about the government market. We also talked about trends driving the market forward and how change has to be part of your go-to-market strategy.
First off, CACI is a very different company today than it was when Asbury took over in March 2013. Just eight days after he took the reins the Budget Control Act with its sequestration cuts became effective. CACI was already being hit as its work in Iraq and Afghanistan shrunk with the drawdown of military operations.
"Those were catalyst for change," Asbury said. The company had to move away from the cyclical work of its professional services business and move toward more "enduring" work as Asbury called.
One transformative move was the acquisition of Six3 Systems later in 2013. "That was about talent and not labor," he said.
Many of CACI's acquisitions since have followed a similar pattern by adding technology skills and solutions as opposed to just people and services.
"Another thing we did was to turn the company on its head," he said.
CACI was structured around customers with former government officials often leading many of those business units. "But as customers changed we found that we couldn't change fast enough," he said.
So now, CACI is structured around markets such as cyber, where the skills and capabilities stretch across multiple sets of customers.
Since the Six3 acquisition, CACI also has added more product-based business with much of that work classified. But Asbury was clear that the customer intimacy that the work has created has reaped multiple benefits for CACI.
Customer intimacy is critical in today's market and part of the change that is still ongoing at CACI is building a business that is more agile and listens more intently to customers.
"Just look at the Defense Department, you have to listen to what they need," Asbury said. "They need agility. They need capabilities faster. And they have an acquisition system that doesn't quite work for them."
That's why you see the Army create organizations such as the Army Futures Command. Across all of the services you see more rapid capabilities offices being formed because they want to get new solutions and capabilities quicker.
For example, the Air Force is using Other Transaction Authorities to acquire satellites instead of a traditional procurement, Asbury said.
"That's the bigger change. Sitting around waiting for an RFP isn't something you can do," he said.
To be successful, companies need to be talking to customers about what they need today, not five or six years down the road.
"You need to get in front of customers to explain the capabilities you can deliver now," Asbury said. "That has changed the traditional way of doing business."
There also can be a significant people shift when a company makes that kind of change.
"We had leaders that were very traditional and a lot of those aren't with us today," he said. "They were good folks but they couldn't handle the change."
Companies instead are trying to take advantage of this move to agility and an emphasis on capabilities need people "who can talk to and listen to the customer," Asbury said. "You have to be up on the balls of your feet."
He also used the metaphor of the little red wagon. "You have to have a lot of conversations and you have to put what you learn in the wagon and then you come back and say, This is what the customer wants," Asbury said. "The conversation has to be about capabilities, not possibilities."