IBM declares intent to prime JEDI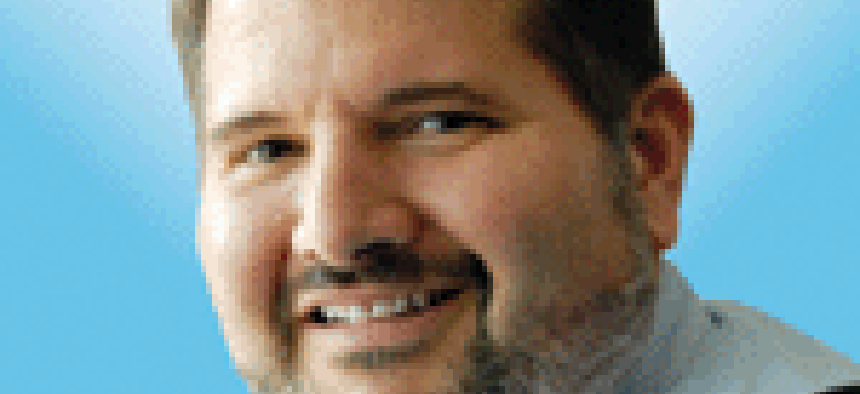 The competition for DOD's $10 billion JEDI cloud contract won't just be a battle between Microsoft and AWS. IBM is building its own case to be the prime.
While many are pegging the competition for the Defense Department's $10 billion JEDI cloud contract as head-to-head competition between Microsoft and Amazon Web Services, a third player is a stepping forward as a challenger.
"We are fully engaged in the capture process," said Sam Gordy, general manager of IBM's federal business.
JEDI, or the Joint Enterprise Defense Infrastructure contract, is a DOD effort to award a single contract for platform and infrastructure as a service through a commercial cloud services provider. DOD says a single cloud will allow it to more quickly to put applications and services in a cloud infrastructure and foster more innovation around things such as artificial intelligence and machine learning.
In addition to JEDI, IBM plans to pursue the $8 billion Defense Enterprise Office Solution contract for cloud-based email and calendaring services.
Gordy said he doesn't expect the final solicitation for the 10-year JEDI contract until the end of June, which is several weeks later than DOD originally intended. There likely will be six-to-eight weeks of amendments and questions, so final submissions likely won't be due until September, he says.
Gordy estimated that late November would be the earliest an award would be made. With that being the holiday season, the award could be delayed until 2019.
And there also is the chance for pre-submission protests to come after the final request for proposals is released, but before proposals are submitted. Gordy said he doesn't expect IBM, AWS or Microsoft to file a protest at that stage.
"That's the big question, who will file the pre-submission protest?" Gordy said.
The likely pool of protesters are the traditional systems integrators, because after seeing the first and second draft RFPs they likely can't meet the major requirement of providing a commercial cloud.
As IBM moves forward with its bid, it is working on pricing, teammates, win themes and discriminators, Gordy said, but he declined to go into many specifics on what the win themes and discriminators would be.
"Clouds are purpose built," he said. "And IBM's was built for enterprise business applications, data, analytics and it is artificial intelligence heavy."
IBM's cloud also is global, Gordy added.
"We believe all of that is rather applicable to the Defense Department," he said.
Gordy has seen an evolution in DOD's thinking about JEDI, especially after the congressional testimony and other public comments by new DOD Chief Information Officer Dana Deasy.
Deasy told the House Oversight for Government Reform's IT subcommittee that "in a cloud world, there is no such thing as one solution that's going to solve for all."
That's a long way from earlier in the JEDI process when defense officials indicated that other cloud initiatives would be rolled into JEDI.
JEDI will be more of a DOD enterprise-level cloud while the services and other components will continue to operate other clouds such MilCloud and Army Private Cloud.
"That's what you want at the end of the day," Gordy said. "The key is how to link to all of those and the legacy systems."
The ability to go across different clouds is "table stakes" in the commercial market, he said.
Five or six years ago that wasn't the case, but today "everything is containerized, so you can move data seamless and quickly," Gordy said.
However, JEDI's managers, said one reason they wanted a single commercial cloud provider was because connecting different clouds would slow things down create security risks.
That's an old way of thinking, Gordy said, so part of IBM's challenge is educating JEDI's managers about the current state of the art.
With something as ambitious as JEDI, you want a customer that is pushing the leading edge, he said.
When the final RFP comes out, Gordy said he'll be looking for several things that have been missing from the drafts.
"They really need to articulate the workloads," he said. "How big are the databases? What's the complexity? What kind of response time do you need? How are you going to tie into the legacy systems?"
There will be opportunities for federal systems integrators whether IBM, Microsoft or AWS comes out as the ultimate winner of JEDI. While not part of the JEDI contract, DOD will still need help connecting current systems to JEDI, he said.
"You'll need to build the connections and bridges," Gordy said. "And that is where the FSIs will come into play."
How and where those opportunities develop will depend on whether they are driven from DOD itself or if the components will be the ones seeking support. It'll likely be a mixture of both, he said.
"You can build a beautiful cloud but if no one connects to it, what good is it?" Gordy said.