Northrop sees more synergy between services, rest of company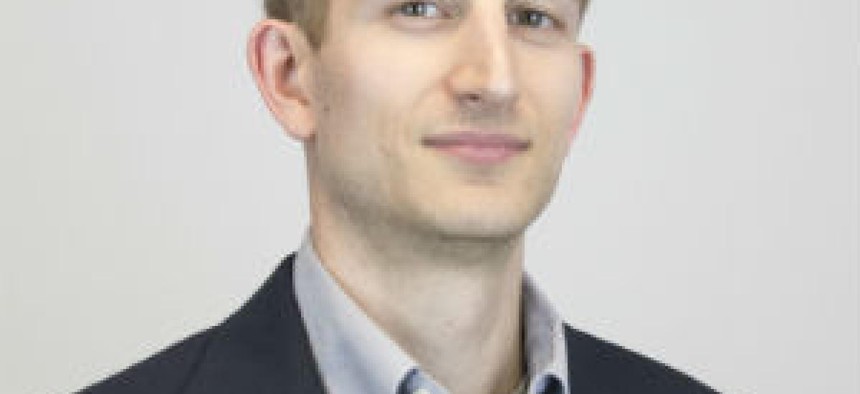 Northrop Grumman is seeing more synergies between its services business and the rest of the company. They also see that as helping keep segment margins high.
Northrop Grumman continues to hold to their strategy that the way forward for the technology services business is to further align that segment with the rest of the company.
During their first quarter earnings call Wednesday, Northrop executives said they see the company's technology services as gaining more synergies with the defense contractor's other two segments that house its vast product and platform businesses.
Support and sustainment services to other programs within Northrop represent 20 percent of technology services' portfolio "and we've seen that grow year-over-year," Chief Operating Officer Kathy Warden told analysts.
Regulatory filings show that intersegment sales for technology services were $905 million in 2015, then $959 million in 2016 and almost $1 billion in 2017. Intersegment sales and profit figures are reported and then subtracted out of overall results for accounting purposes and the investor community.
Those numbers have climbed as Northrop has seen overall revenue decline in recent years for technology services -- although by design -- as a result of program completions and tighter discipline on bids. Revenue has fallen 1 percent over the previous two full calendar years to $4.7 billion and is expected to come down to the low $4 billion range by 2019.
For this year, Northrop is holding to guidance of mid-$4 billion in revenue with an approximate 10-percent operating margin for technology services. The segment has operated at double-digit margins over the past three years even as Northrop has retuned the portfolio to what it views as higher-margin work with a technology angle.
That said, Warden noted Northrop is replacing programs such as one to support the KC-10 aircraft and a second to run the state of Virginia's IT infrastructure with "good quality business" that is "sustaining the margins of the technology services organization at a very healthy level."
As Warden pointed out, Northrop kept its incumbent role on the Social Security Administration's $7.8 billion IT Support Services Contract, first awarded in August of last year. SSA was given the green light to move forward earlier this year after denials of protests by disappointed bidders.
One of three awardees, Northrop has the largest ceiling at $3.1 billion over the 10-year period. And they were the second-most successful taker of task order spend on the predecessor contract with $664 million in obligations against the $2.8 billion ceiling, according to Deltek data.
Also during the first quarter, Northrop began work on a $750 million contract it won late last year for logistics services to support the Army's "Special Electronic Mission Aircraft" fleet.
Northrop's strict filter for what programs to bid for came up again during the call when Warden said the company decided not to pursue the Air Force's next GPS III satellite contract and another award for F-35 support systems. SpaceNews reported that Boeing also left the GPS III follow-on competition, leaving incumbent Lockheed Martin as a potential default winner unless another bidder comes in.
Those decisions follow Northrop's moves late last year to exit both the Air Force T-X trainer jet competition and Navy's MQ-25 program for a carrier-based unmanned refueling tanker.
The tighter bid strategy as it applies to technology services has helped keep its margins above 10 percent. But the segment's lone growth area is in the global logistics and modernization line. That line "enjoys much more synergy with the rest of Northrop's business "than other divisions within the segment, Technology Business Research public sector IT analyst Joey Cresta wrote in a research note for clients.
So what of the other pieces in technology services? Cresta wrote that Northrop could receive inquiries about "noncore aspects" of the portfolio given the ongoing consolidation in federal IT services. Those pieces "remain highly capable and could offer benefits in agency access and performance credentials."
Northrop CEO Wes Bush told analysts the GPS III exit decision was based on a "relative comparison of the attractiveness of the different opportunities that we're pursuing" in its space portfolio, which is set to swell with the pending acquisition of Orbital ATK.
That deal remains under review by federal antitrust regulators but Northrop still anticipates closure during the first half of this year.
Bush did not offer further detail during the call on what those space opportunities are. He did tell analysts that Northrop does "see a trend in the direction of additional" classified activities -- a growing piece of the company's portfolio, a shift he and other industry CEOs have signaled is coming.
That increase "is a reflection of the security environment that we are all operating in these days, that the growing understanding that drive technological superiority means that you actually need to keep a number of important aspects of activities classified," Bush said.
Regarding the Orbital ATK acquisition, Bush again touted what he views as a "very complementary match" for both companies with respect to their space portfolios given Northrop's focus on larger space platforms and Orbital ATK's "agile class of spacecraft" at small and medium sizes.
"If you think about what is happening in the space environment today, we are clearly moving into an arena where we need a mix of those capabilities to address the set of missions that we need to address, particularly given the contested environment that is not only the future of space, it is today of space that's on us already," Bush said.
"So if you think architecturally about the capabilities that are needed to both address the threat that we have in space and to do the mission that we want to conduct in space, those architectures are inherently a blend of those classes of capabilities."