Northrop's Bush mixes pessimism with his optimism about the market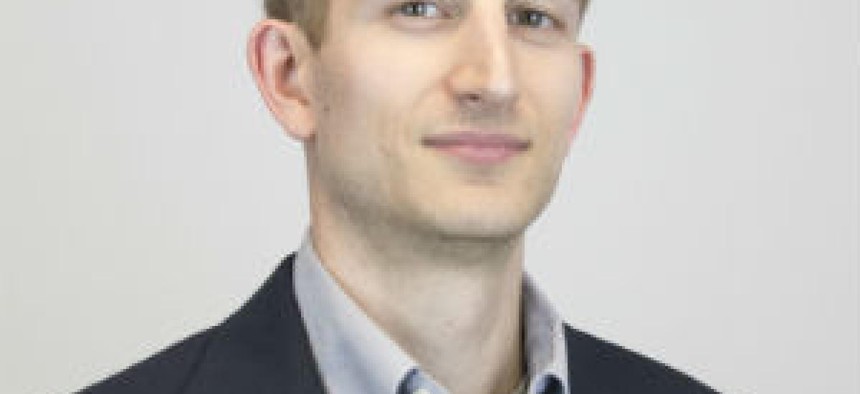 Northrop Grumman's CEO was both pessimistic and optimistic on his company's fourth quarter earnings call Thursday. It just depended on the topic.
Depending on the topic at hand, Northrop Grumman CEO Wes Bush either struck a pessimistic or more optimistic tone Thursday during the defense contractor's fourth quarter earnings call where he also discussed their outlook for this year.
What was Bush pessimistic about? A constant slate of continuing resolutions in recent years and budget gridlock that led to the government's three-day shutdown earlier this week. Congress extended funding through to Feb. 8 but fears over another shutdown loom across industry and government.
While industry is challenged by that, Bush characterized the situation to analysts as "just really, really tough" on the military and other agencies over "a number of odd years" without full appropriations.
"The real pain here, and I mean pain with a capital 'P' is on the customer side… fortunately for our nation and allies around the globe we have a military that figures out how to get things done," Bush said. "But it's just not right that they are put in this position. There's a growing recognition not only on (Capitol) Hill but across our country that this has gotten to the ridiculous point and we've got to get it solved."
There is also the Budget Control Act of 2011 that caps both defense and nondefense spending through the government's 2021 fiscal year. Bush reminded analysts that lawmakers also have to address those spending caps -- or "crazy constraints" in his words -- along with the passage of a full appropriation in order to raise defense budgets.
Both actions, Bush said, are needed for "doing the right things from a national security perspective."
On another hand, what was Bush optimistic about? Even without full appropriations in place, Bush sees the current period of time as one where the U.S. and its allies need to achieve and invest in technological superiority in the national security domain.
"Those will be different types of investments at the national level… and we've got to get back to a place of technological superiority," Bush said. "When you're talking about doing that kind of thing, you can't just patch up old facilities and do that incrementally. You have to step back and see what is the capacity industry needs to achieve the customer's strategic objectives here."
That sentiment of increased focus on national security even without a full budget is reflected in Northrop's guidance for this year. Falls Church, Va.-based Northrop is forecasting $27 billion in sales – slightly above analyst expectations of $26.91 billion -- which implies growth of 4.6 percent from 2017 sales.
And then there is the impact of the massive tax reform package signed into law late last year that brought corporate tax rates down. With that, Northrop expects its effective tax rate for this year to be around 19 percent versus last year's 35.8 percent. Both defense and government IT and services contractors alike are anticipated as among the main beneficiaries of the rate cut.
That should spur additional research-and-development efforts across industry and "helps in terms of things like returns on programs (and) investments we are making" into the business, Bush said. It would not change its self-described tight discipline strategy on programs it bids for however, he said.
"It does not turn a bad business into a good business," Bush said. "The things we walked away from in our lens were just bad business deals. It's not enough of a variant to change a bad business deal to a good business deal."
The effects of tax reform also show in Northrop's earnings guidance for this year. Northrop forecasts earnings of $15.00-$15.25 per share versus last year's $11.47. Wall Street analysts expected Northrop to guide for $14.24 earnings per share this year.
During the call, Northrop Chief Operating Officer Kathy Warden offered further details on the corporate structure after it closes the acquisition of Orbital ATK, slated to be a fourth segment of Northrop.
Blake Larson, Orbital ATK's current COO, will lead the segment to be renamed "Innovation Systems" after closure that is still anticipated in the first half of this year.
Orbital ATK's three executive vice presidents -- Scott Lehr, Mike Kahn and Frank Culbertson -- will continue in their current roles. Lehr leads the company's flight systems group, Kahn is head of defense systems and Culbertson oversees space systems.
Fourth quarter revenue of $6.63 billion was 3.6 percent higher than the said period a year ago and exceeded Wall Street's $6.57 billion expectation. Sales of $25.8 billion for the full 2017 year showed growth of 5.3 percent.
Just like General Dynamics from Thursday, Northrop's fourth quarter and full 2017 earnings picture is complicated by higher expenses from the tax reform package's enactment in late December of last year. Northrop also made a $500 million pre-tax pension contribution that dragged earnings.
Excluding those charges, fourth quarter earnings of $2.82 per share exceeded Wall Street's consensus forecast of $2.76 EPS. With the charges included, fourth quarter earnings came out to $1.01 per share.
Full-year earnings for 2017 totaled $13.28 per share when excluding the charges, then come out to $11.47 EPS when including the charges.
Shares in Northrop closed up 3.5 percent to $324.47 Thursday and hit new 52-week highs during the intraday session.