Another year of change in the cards for 2018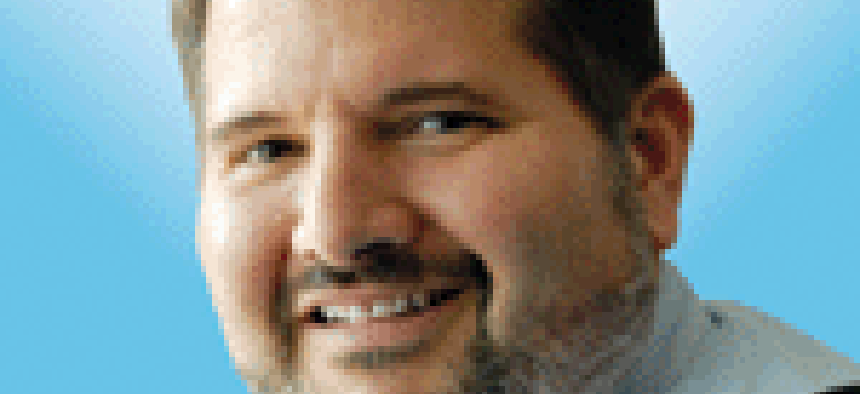 Approaching one full year into the Trump administration and things are still a bit bumpy. But no matter who is in the White House, the contractor community should expect more changes in the year ahead.
It is hard to decide where to start when looking back at 2017 and picking at the biggest happenings of the year.
The Trump administration obviously drove a lot of what people talked about.
We saw a huge spike in our Contractor Confidence Index in our first survey after Trump's inauguration. But after that the Trump Bump settled down and we saw the index fall back to about where it was before. We'll launch another survey in January to see how the market views 2018.
The transition to the Trump administration continues to be bumpy with so many political positions unfilled. Acting CIOs and other leaders were and are reluctant to launch new initiatives, which put somewhat of a drag on the market throughout the year.
And of course, we are ending this year much like we ended last year under a continuing resolution and with serious questions about how the two political parties will resolve their differences. Will we see six months or more of a CR? Again?
But through it all in 2017, the federal government continued to function. Everything is not perfect but overall, missions were met. Constrained resources or not, work got done.
That is a tribute to government workers, the oft-maligned "deep state." Your customers are a remarkable group of people and so are you.
The market is in the midst of a period of great change on multiple fronts. So rather than focus on individual happenings, I'm going to look at some the trends driving change in the market. Where I can, I'll point to specific events that illustrate those trends.
Technology Trends
Saying technology is changing is throwing a lot of things into one big bucket. Two of the biggest disruptors -- cloud and mobile -- have been hot new topics for years. But we are entering a new phase. It's like the rail lines have been built, but are we going to do now with all of these shiny new trains?
In many ways cloud and mobile are enablers of other emerging technology trends such as the Internet of Things, machine learning, artificial intelligence, edge computing, big data analytics, robotics and autonomous vehicles.
Together, these technologies are changing how we live individually and that includes how the government operates and how we interact with the government.
IT Modernization
The technology trends are a major enabler of IT modernization, which became a major buzz word in the market in 2017. But IT modernization is about more than just applying new technologies to current problems. It is about rethinking business processes and understanding outcomes. It is about changing cultures and traditions. And that is why it is so very hard to do.
The 2018 National Defense Authorization Act included the Modernizing Government Technology Act. That was welcome news but there are still a lot of questions about how it will be implemented and whether Congress will actually appropriate the money for it. Another open question is how will agencies manage the pools of money they savings they reap from updating legacy systems.
Politics and Policy
As I've already said, we are a year into the Trump administration and most of us are still trying to figure out what it means and how White House priorities will be implemented. When the fiscal 2018 appropriations are passed, we'll know more about how the Trump administration will move those priorities forward.
Serious challenges are ahead particularly for civilian agencies, where the Trump administration has proposed deep cuts. But how far, if at all, can those cuts be pushed in an election year?
Industry Reacts
While the government has been going through a transition, so has industry. Merger and acquisition activity has been strong with a wide spectrum of dealmakers and deal sizes.
While the transaction closed in 2016, we did see Leidos supplant Lockheed Martin as the No. 1 company on the Washington Technology 2017 Top 100. Leidos' rise was thanks to its acquisition of the Lockheed IT business the year before.
We should see another scramble in the market as other major deals close in 2018, most notably the three-way deal involving DXC Technologies' U.S. public sector business, Vencore and KeyPoint Government Solutions. Those companies will merge into a new entity.
While that is a big deal size-wise, we aren't seeing scale as the primary driver of deals. Buyers are instead much more strategic. See ManTech International acquiring InfoZen to add more IT modernization skills, and Northrop Grumman's deal for Orbital ATK to strengthen in the space market. CSRA bought NES Associates and Praxis to strengthen defense and intelligence work.
Deals are driven by a need for new or expanded technical capabilities, access to customer and domain expertise.
What companies are buying and why are indicative of a change in how the customer is buying products and services. There is more solutions-oriented buying and a need for more mission expertise from contractors. Ten years ago, it was more about brute force: how many butts can you put in the seats?
But M&A isn't the only way industry is changing. As we recognized in our WT Industry Innovators program, companies were making acquisition but also putting an emphasis on partnerships, internal structures and strategic hires as a way of bringing innovation to their customers.
We expect all of these trends to continue in 2018.
Outside Factors
The government market doesn't operate in a vacuum, so as we move into 2018 there are several things that can change the direction of the market. Another major terrorist attack. An economic crisis. A deepening of the Russian election scandal.
These are impossible to predict.
But there are two factors we can easily predict as major influencers in the next year.
One is the budget, which we've already talked about. Once the budget is resolved, many things will become clearer.
The second is the 2018 midterm elections. Those elections will start having an influence very soon -- if they haven't already -- as the posturing and political gamesmanship picks up.
The longer term impact of course will come with the election results.
Much of this will be background noise for the government market but there will be an impact as the politics either slow down or speed up one action or another.
You can't obsess about them of course, but it might be good to keep an eye out.
There are no easy answers as we move into the new year. This year was momentous and 2018 could be as well.
As always, the best bet is to talk to your customers, get smarter about their mission and their challenges, and deliver what you say you are going to deliver.
Here at WT, we'll try to do the same.