How Booz Allen's growth is tied to hiring success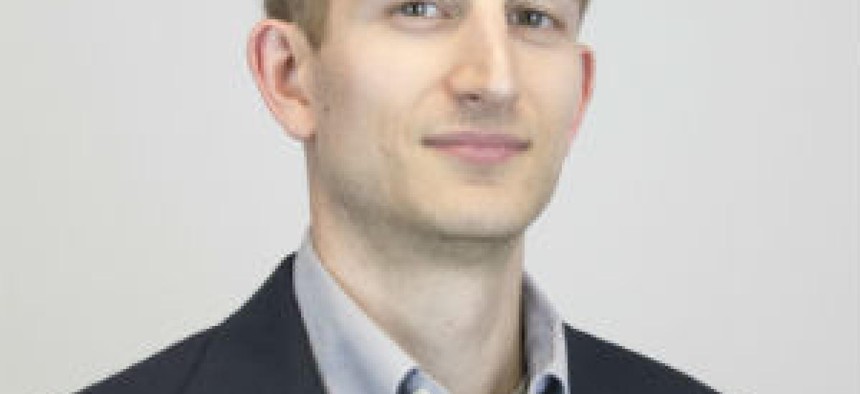 Booz Allen Hamilton's contract backlog and revenue are both on growth trajectories. It just needs the staffers to make it all count.
Booz Allen Hamilton's backlog is increasing and in turn revenue continues to climb, as is the government services contractor's efforts to ramp up its employee base to support that growth.
Speaking on its second quarter earnings call with investors Monday, Booz Allen CEO Horacio Rozanski said the firm's headcount increased by 771 in the July-September period.
Rozanski told analysts that as of Sept. 30, Booz Allen has roughly 1,500 more employees than that of the same date last year. Roughly 300 of those came to Booz Allen through its acquisition of Aquilent late last year with 1,200 organic hires on top of that.
Booz Allen's total headcount stood at 24,225 employees as of Sept. 30, almost 6 percent higher year-over-year. Rozanski noted a majority of the new hires are tied to several key areas of Booz Allen's long-term Vision 2020 strategy: digital services, cybersecurity, engineering and technical solutions.
"Roughly two-thirds of the hires that we are talking about have a technical background. More than half of them have a security clearance. So these are the people that we need to continue to drive our growth rate," Rozanski told analysts on the call.
As an indicator of future growth, McLean, Va.-based Booz Allen posted a book-to-bill ratio of 2.7 for its fiscal second quarter ended Sept. 30 to show the backlog of contracts is increasing greater than it is being drawn down from and recognized as revenue.
That is Booz Allen's second-highest quarterly book-to-bill since it went public in 2008 and made the firm a big beneficiary of what has become a so-called "spending spree" of awards from agencies in the quarter before the government's fiscal year ends Sept. 30.
Total backlog grew 22 percent year-over-year to a new record of $16.7 billion. Funded backlog climbed 7.7 percent to $3.6 billion, also a new record.
Fiscal second quarter revenue of $1.5 billion was 10.6-percent higher than the same time last year, while six-month sales of $3 billion show a 7.7-percent increase.
"Most of our business is growing… we see growth across defense, across our intelligence business, across our civil business (with) strong double-digit growth in global commercial," Rozanski said.
But it will take some time for revenue and head count growth to appear on Booz Allen's bottom line. Chief Financial Officer Lloyd Howell said on the call the "timing and the cost" related to new hires is creating profit headwinds for the contractor.
From that, Booz Allen left its full-year earnings guidance unchanged at $1.83-$1.93 per share. The firm also held to its sales outlook of $6 billion-$6.2 billion, which indicates growth of 4-7 percent from the prior year's $5.8 billion figure.
Underpinning the firm's need to grow its headcount are two pricing-related trends in the market: agencies continuing to move away from low-price, technically acceptable contracts and growth in salaries of technical talent.
Howell said that in the reduction of many LPTA procurements, agencies have become "much more sophisticated in aligning the appropriate pricing (of contracts) with the capability support they are seeking."
But all services contract bids still have a "degree of pricing pressure to it" Howell said.
The government services market is also experiencing some wage inflation of staffers in technology-related areas, Howell said. This is due to competition from agencies themselves but also Booz Allen's competitors and other industries, he added.
And while not mentioned in the call specifically, the hires of already-cleared people will help the firm navigate the growing backlog of approved security clearances for government and contractor personnel.
Booz Allen also offered a small update on the Justice Department's criminal and civil investigations disclosed in June into certain elements of the firm's cost accounting and indirect cost charging practices for federal contracts, in essence what the firm bills agencies for overhead costs on those contracts.
In its latest quarterly filing accompanying the earnings release, Booz Allen said the Securities and Exchange Commission has "notified the company that it is conducting an investigation that the company believes relates to matters that are also the subject of the DOJ's investigation. In accordance with the company's practice, the company is cooperating with all relevant government parties."
The firm did note in its filing it has been in contact with the SEC and other regulatory agencies "as is commonly the case with this type of matter." Booz Allen has also hired an unidentified law firm to represent the contractor on the probe.
Rozanski said during the firm's first quarter call in August the probe "is more likely to be years than months" before resolution.
In Monday's second quarter call, Howell declined to comment on specific cost figures related to the probe but did note the firm saw "incremental higher legal expenses, as expected."
Shares in Booz Allen were 5 percent lower in early afternoon trade on the continued uncertainty over the probe and the unchanged profit guidance related to the hiring ramp-up.
Second quarter revenue of $1.5 billion was in-line with Wall Street's consensus outlook, while earnings of 47 cents per share topped analyst expectations by 1 cent.
Booz Allen's stock is 8 percent lower since the DOJ probe was disclosed after markets closed June 15. The stock plummeted 19 percent the following day.