Get ready for the everything-as-a-service world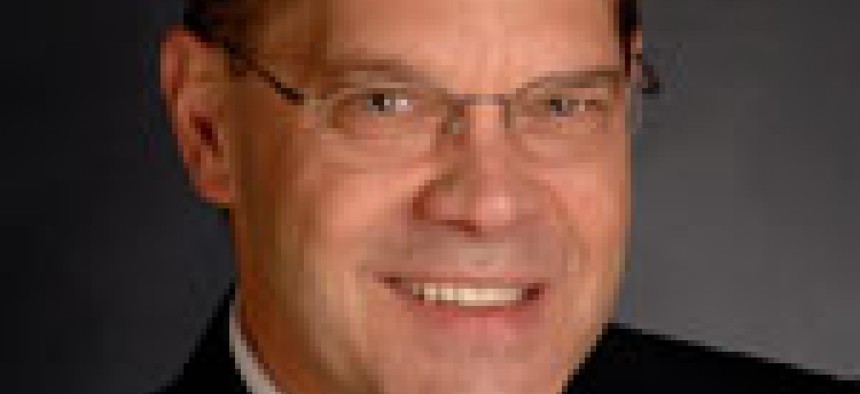 It might take years but cloud computing will have a long-lasting and fundamental impact on everything in the government market. Now is the time to prepare.
You might not have Eucalyptus bookmarked. But if you plan on selling software and software services to the federal government, it's the kind of thing with which you need to become familiar. What is it? Eucalyptus is open-source software that lets developers use industry standard application programming interfaces to build private clouds or hybrid clouds that draw from internal and external, or public, cloud resources.

Why is this important to federal technology marketers? Because it's emblematic of an important technology trend in the government that will start to gather momentum later this year and into fiscal 2013. Namely, for want of a more elegant word, everything as a service.
In part 3 of our series of articles on fiscal 2012 and 2013, I will discuss some of the key technologies driving the federal market. In part 2, we talked about the thematic drivers:
Cost-cutting via consolidation of data centers, cloud computing, grouping related services visible to citizens, and more IT oversight
Cyber security
Mobilizing the federal workforce
Improving decision making with data analysis
Now let's see how those themes will be implemented.

Key point: From a product marketing and sales standpoint, these themes interrelate in such a way as to force every marketer to rethink its product strategy.

For example, the consolidation of data centers might have started as a cost-cutting measure, but it also drives a lot of new technologies, including a new approach to provisioning capacity. This is where technologies like Eucalyptus come in, because agencies operating the remaining data centers will, over time, run them more like clouds. They'll offer their internal clients capacity using the Infrastructure as a service (IaaS) model. And, per policy now under development, they'll offer excess capacity to other agencies, also using IaaS.

Plus, the shared services strategy the government is pursuing at the application level (human resources or finance, for example) elevates IaaS to software as a service (SaaS).

Cloud computing is policy. Virtualization greatly eases successful migration of agency applications to the cloud. In turn, the cloud mitigates towards that "everything as a service" model I mentioned earlier. Agencies are dipping their toes into this by adopting cloud email, but expect more critical applications to go this way. Marketers have to ensure their applications map well to the SaaS model and to a virtual delivery platform.

Data center consolidation and virtualization, while calling for products specific to those activities, will also entail infrastructure modernization. That means new servers and new server form factors, specifically blades and supporting infrastructure, will see fresh demand. Also wide area networks and storage updates, and rapid migration to unified IP communications.

If you overlay the federal mobility drive on the cloud-consolidation-virtualization trend, another technology wrinkle comes into play. For enterprise applications to be mobile, they will have to take their architecture cues from the app culture that's transformed consumer devices. How applications interact over a wireless WAN to an agency data base, for example, will fundamentally change. Luckily, devices' chipsets, memory handling and storage requirements of smart phones and tablets actually play well with cloud computing.

These transformations won't happen overnight. Cloud security standards and procedures for federal agencies are not yet fully baked. The FedRAMP process will be up and running in the 2013 time frame, with volume migrations perhaps not until 2014. But now is the time to prepare for the trend. Marketers must be reorienting themselves now. Be ready for the as-a-service model that will change everything.
Ask yourself:
How does the software as a service model jive with my existing licensing models?
How will I align sales incentives to match the new model?
Are my technology people able to update the product architecture to optimize it for a cloud, on-demand model?
Do the security controls and APIs align with where FedRAMP is headed and with the government's move to continuous security monitoring?
That last point, cybersecurity, is also driving data analytics. Two cybersecurity bills are battling it out in the Senate. Both emphasize continuous monitoring to supercede the periodic certification process now specified by the Federal Information Security Management Act.

Continuous monitoring generates large, often unstructured sets of data from which cyber or network staff must glean meaning. Federal technology managers are openly skeptical of tools purported to handle the output of continuous monitoring, even though they realize they'll need these tools.

For marketers, the key to success is not so much explaining how a tool works or solves the stated problem, but rather how the agency can use it across a wide range of challenges. That is, CIOs and CISOs are looking for fewer, but more versatile products for processing and analyzing big data sets.

To summarize, the active technology areas for the federal government over the next 18 months and beyond center on:
Creating and managing virtual, cloud-hosted environments.
Applications rebuilt for mobile use and cloud hosting
Cybersecurity tools that help agencies understand what it happening at a fine-grained level.