Sweet dreams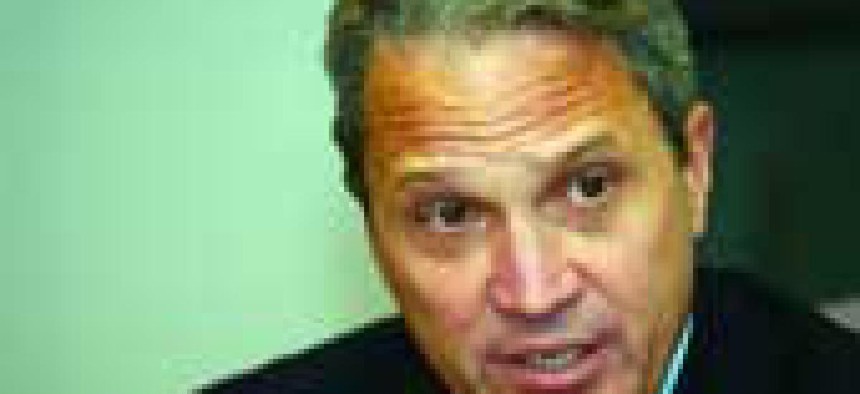 American Systems pulls out all the stops in quest for tier-one status.
William Hoover, president and chief executive officer at American Systems Corp., must believe in the old adage, "If you can't lick 'em, join 'em," and he acts on it.Major new government contracts, especially the General Services Administration's Alliant awards, are pushing midtier companies such as his into a contractors' no-man's land. They are caught between their large competitors, which have an edge on winning major portions of governmentwide acquisition contracts, and the small contractors that benefit from government set-asides and partnering arrangements with the large contractors.Bolstered by a new $75 million expandable line of credit from Wachovia Bank N.A., Hoover has unveiled an aggressive acquisitions campaign for American Systems, of Chantilly, Va., an employee-owned information technology provider.He said the long-range goal is for the company to grow from its midtier status to the upper levels of pure-play services companies in the next five years and establish critical mass in specific government verticals.A tier-one company has annual revenue of more than $1 billion, focuses primarily on prime contracts, and has broad and deep capabilities. A tier-two company has annual revenue between $50 million and $1 billion, a healthy mix of prime contracts and subcontracts, and expertise in certain core business areas."We're very solidly in the middle, neither fish nor fowl," Hoover said. "We want to be fowl, which is the bigger side."The 32-year-old company became a majority-owned employee stock ownership plan in 1997. "When you establish an ESOP, you take on a lot of debt. You're leveraged to the hilt," he said. "Well, last September, we made our last payment to the bank, so we are a nonleveraged ESOP today."Having liquidated the debt, American Systems is now in a position to grow significantly, he added, with a long-range financial plan to reach the $650 million to $700 million revenue threshold by 2012."Our desire is to move beyond the $650 [million] into the $1 billion, $2 billion, $3 billion range," he said. "We believe that there is a real opportunity for an employee-owned company to be successful. We have to get to the $750 million to $1 billion level in order to compete effectively with the large guys across a broad spectrum of capabilities."Hoover expects American Systems will do about $250 million in revenue this year, or about a 10 percent organic growth rate, similar to its 2006 growth. He considers that a good rate because most companies in the public market grow at 5 percent to 7 percent. "I'm pleased, but I'm not satisfied.""We want to grow at 20 percent or greater on an annual basis. We want half of that to be organic ? build it on our own ? and we want at least half of that to come through acquisitions." The Wachovia credit is an important tool to use in that effort, he said. The bank facility has an accordion feature to grow to $75 million, "with the opportunity to syndicate that to probably better than $150 million if we need to," he said.That will allow American Systems to be aggressive in pursuing appropriate acquisitions and moving beyond its present midtier status. "That doesn't mean pay top dollar or pay more than everybody else," Hoover said. "It means being able to go after larger companies than maybe you would otherwise expect a company our size would be able to do."The need to grow is also fueled by competition from the large integrators. "We are now competing against everybody," he said, citing government contractors such as CACI International Inc., Lockheed Martin Corp., BAE Systems Inc., General Dynamics Corp., Northrop Grumman Corp. and another ESOP, Alion Science and Technology Corp., of McLean, Va.Hoover said he's looked for acquisitions since he took over at American Systems in June 2005.He has made a few bids on some companies this year. "But we haven't closed on anything at this point," he said. "We're not going to do something foolish" by rushing into a purchase just to complete a deal.Hoover said he has no interest in acquiring any overseas companies. "We want to be involved in national priorities" because "they get funded well in good times and funded in bad times."He's being reactive and proactive, he said, listening to purchase suggestions from investment banks and assembling an in-house acquisition team to find potential buys.In February, the company won a $4.7 million State Department contract through its GSA schedule to evaluate and update the department's human resources management software programs.In the military arena, American Systems is a subcontractor to Northrop Grumman helping train F-35 Joint Strike Fighter pilots and maintenance workers by designing courseware methodologies, tools for training and associated materials.In the consulting realm, the company's Enterprise Consulting Group has a $983,000 contract from the Freddie Mac mortgage agency to provide management consulting services.Hoover's shopping list includes government markets in which American Systems has a presence: command, control, communications, computers, intelligence, surveillance and reconnaissance; national security; citizen preparedness; training and development; and acquisition and logistics.He also said he wants the company to grow its commercial sector and wouldn't rule out the purchase of an energy-related company or a health care contractor, markets in which American Systems has no experience. "If we could acquire a business that has the right mix, the right type of business, we would do that to basically establish a foothold and then grow it organically," he said.American Systems was unsuccessful in winning a place on an Alliant contract, but Hoover said the process was a worthwhile learning experience. "It was important for us to say we're going to be a prime contractor."In the past, American Systems might have settled for a subcontractor's role on some of the larger government contracts, but he said the company will now be more aggressive, aiming to increase its wins as a prime contractor from its current 55 percent to 75 percent."We're going to get in there," Hoover said. "We're going to slug it out, and we're going to take our lumps. And we're going to be successful."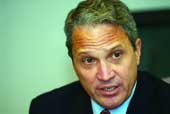 William Hoover, American Systems Corp.
The right tools for the jobShopping list
Associate Editor David Hubler can be reached at dhubler@1105govinfo.com.