SBInet struggles through first phase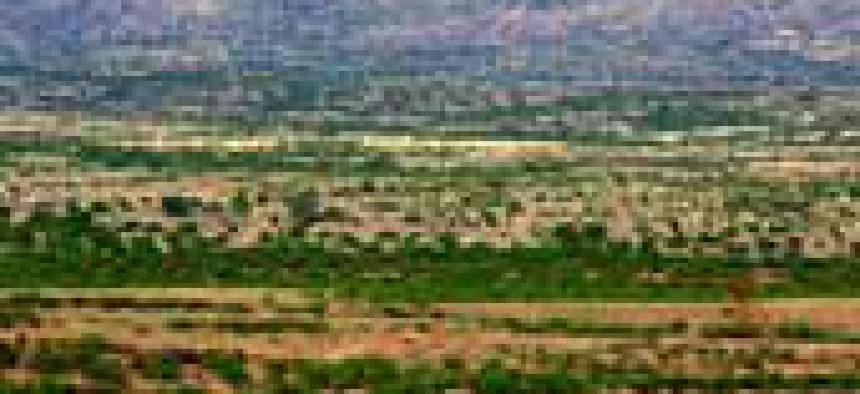 Boeing, DHS take slow approach as they work out integration kinks.
More than two months after Boeing Co. planned to activate the SBInet surveillance system, the project is not yet operating.Homeland Security Department officials blame the delays on technical integration problems they hope to resolve soon. Industry experts say it is too soon to know if the holdup represents a serious technical setback or just a temporary delay. The system in question would cover a 28-mile stretch of the border in Arizona.DHS awarded the estimated $8 billion contract to Boeing in September 2006. The company was to construct an electronic virtual fence along the southwest U.S. border. Boeing initially said the first segment of SBInet, called Project 28, would go live June 13.But the company and DHS encountered problems integrating the various cameras, radars and other sensors on the nine towers in Project 28. There also are problems combining the incoming data seamlessly with communications networks, a DHS spokesman said."It could be two, four, six or eight weeks until it's operating," said Brad Benson, a spokesman at the Customs and Border Patrol agency. "SBI management is not going to accept a system until we are satisfied that it is effective. It is more important to get it working right than to work toward a specific date."The crux of the delay is software integration, he said.A Boeing official referred all questions on the system to DHS. Boeing has replaced its program manager for SBInet, but the company said that action was unrelated to the delays.Daniel Korte took over as Boeing's program manager for SBInet Aug. 13, replacing Jerry McElwee, who will remain at Boeing's Integrated Defense Systems unit and help with the transition, said Eric Mazzacone, a Boeing spokesman.The program management change was planned several months ago, Mazzacone said.SBInet is transitioning from Boeing's Advanced Systems unit, which captures new business, to its Network and Space Systems unit, which implements network-centric programs, Mazzacone said.Both units are in the integrated defense systems division.The software concerns referred to by DHS could span a wide range.First, sensors need to be adjusted to account for the environment in which they operate, said Alice Solomon, project manager of the Air Force's Integrated Base Defense Se-curity System contract at Abacus Technology Corp. of Chevy Chase, Md. Under that contract, Abacus helped install a perimeter surveillance system to protect airplane landing strips.A sensor purchased commercially can begin operating correctly but may immediately begin generating false alarms because its software has not yet been adjusted.For example, a camera programmed to set off an alarm when it detects motion of large objects will need to be reset to account for traffic on a nearby highway or occasional planes overhead, Solomon said.Even if the adjustments are made in a single sensor, combining data simultaneously from multiple sensors ? such as from cameras and acoustic sensors ? adds a great deal of complexity, she said.There are separate software programs to ensure that if two cameras and an acoustic sensor track the same object, it is not recorded as two or three separate objects."The more sensors you have, the more complicated it is," Solomon said.Resolving software incompatibilities among the sensors also may take significant time to overcome, said Jaime Solorza, wireless systems integration project manager at Electric Supply Source, a provider of automation products and software in El Paso, Texas."You have different technologies, different protocols," Solorza said. "Bringing them all together and getting them to work together is easier said than done."Radars in particular pose thorny compatibility problems, Solorza and Solomon said. In June, Rep. Bennie Thompson (D-Miss.), chairman of the Homeland Security Committee, issued a statement saying DHS had informed him that difficulties with radars were causing the delay with SBInet.In addition, the area covered by Project 28 includes many deep canyons where illegal border crossers can try to hide from the cameras, requiring careful camera placement to cover as much territory as possible."Have you seen a terrain map for Project 28?" Solomon asked. "Camera configurations in mountainous areas are much more difficult than on a flat plain."A two-month delay in a detection and surveillance integration project is not unusual, and experts say it is not possible to draw conclusions based on limited information. But Solorza added that engineers usually can identify compatibility issues in advance in a laboratory setting. In April, Boeing announced that it had tested the first tower configuration, and it was a success."There are conditions which, even if they are tested in the lab, cannot be fully addressed until the system is in the field," said Michael Danick, director of Air Force programs at Northrop Grumman Corp.'s Mission Systems division, which has installed surveillance systems at more than 60 U.S. military bases.In recent weeks, CBP has been testing Boeing's equipment to ensure that it meets the goals of SBInet, Benson said.The most recent report indicated that improvements are needed, he added. "We are not where we want to be, and we're still working on it."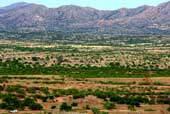 A Border Patrol vehicle cruises along the border that separates Mexico and Arizona.
Newscom
Staff writer Alice Lipowicz can be reached at alipowicz@1105govinfo.com.