Technology with a human touch
Company combines IT and security to win work in the world's hot spots.
As the Homeland Security and Defense departments focus on fighting wars with new technologies, some private companies are finding a lucrative niche in packaging information technology with security support services for assignments in such trouble spots as Iraq, Afghanistan and sub-Saharan Africa.Under the proposed Building Global Partnerships Act of 2007, 15 new legislative funding proposals were introduced in Congress in May.If passed, they would give DOD and the State Department $500 million in additional foreign assistance to help governments combat local terrorism by training and equipping their military and police forces.Such aid packages could prove a windfall for security firms such as Global Strategies Group and its newly formed Global Strategies Group (USA) LLP.In February, Global Strategies, a United Kingdom-based group of eight companies specializing in security and risk mitigation, acquired SFA Inc. of Crofton, Md., an IT provider to national security clients, and its subsidiary, the Analysis Corp., a defense and security contractor.The companies are strong in counter-terrorism technologies and services and now operate as Global (USA), a unit of Global Strategies. The unit is based in Washington to support national defense initiatives worldwide.John Hillen, former assistant secretary of State for political-military affairs, is president of Global (USA)."We are building a company that responds to what we consider to be the new nature of national security challenges," he said. "All of our work is performed outside the country, naturally. I tell people if the exchange rate is over 1,000 to 1 and you can't drink the water, we work there."IT is increasingly being integrated into the security field, said Stan Soloway, president of the Professional Services Council, an industry group. "You're getting into all sorts of more sophisticated technologies in the provision of security, so it makes eminent sense for security firms to be integrating technology into a package of solutions that can address a number of differentenvironments."From the end of World War II through the Cold War, DOD's focus was largely on weapons systems, Hillen said.Meanwhile, State sought to maintain peace and build alliances primarily through diplomacy. The 2001 terrorist attacks changed that."What everybody has come to recognize in the military community and the diplomatic community is that you're not going to kill or capture your way to victory in this war, whether it's the war on terrorism or the war in Iraq and Afghanistan," he said.Victory will result from social development, good governance and economic programs ? plus counter-insurgency military operations combined with high-end technology, he said.Hillen called Global (USA) a new breed of security company, one that is technology-oriented and integrated into the defense and intelligence community but with a strong presence abroad that can also perform humanitarian tasks."Your average infantry colonel in Afghanistan now needs to be as cognizant of microfinancing development projects as he does of how to lead his battalion," Hillen said. "He has to have both skill sets to succeed in a counter-insurgency environment."Hillen said DOD, intelligence agencies and nongovernmental organizations are starting to buy services that integrate security and risk management. "You're starting to see procurements that blend this mix of requirements to be out in the field doing real-time, human-based activities with technology."For example, Global Strategies oversaw the 2004 elections in Afghanistan for the United Nations and ran the currency exchange there and in Iraq. It also helped make Baghdad International Airport a secure facility for travelers and equipped the airport with the latest technology for air operations, he said.He also cited the company's participation in an alternative livelihoods program in Helmand province in Afghanistan. That program trains poppy growers to cultivate other cash crops rather than participate in the illegal drug market. It has also been involved in rural Vietnam teaching the population about the dangers of unexploded bombs and mines and helping to rehabilitate victims.In the past, such a range of work would go to several companies, Hillen said.Now, companies that can offer a combination of skills are gaining a competitive advantage."What you're seeing is a broader sensitivity to security challenges across the globe and a need to integrate a variety of capabilities," Soloway said. "It's not just convoy security, it's not just gate guards. It's a lot more sophisticated than that, and that's what the major security firms are looking at doing."Providing a suite of security capabilities that can address a number of challenges, as opposed to addressing just one niche, is appealing because the war in Iraq has demanded unprecedented physical security. "What you have are hundreds and hundreds of programs and initiatives across the country and in Afghanistan that are outside the Army's ability to provide security," Soloway said.The goal of Global (USA) is to go after big contracts and compete against large IT providers, said Ron Jones, president of technology strategies and a board member at SFA, the company Global Strategies acquired in February.The company is competing for a $3 billion indefinite-delivery, indefinite quantity contract from DOD's Counter-Narcoterrorism Technology Program Office."All the bids are in and all the 'bigs' have competed for it," Hillen said, citing Lockheed Martin Corp., Raytheon Co., Blackwater USA of Moyock, N.C., and Arlington, Va.-based Stanley Inc.All of the companies hold spots on Washington Technology's Top 100 list of the largest government contractors. Hillen could not say when the award would be announced.Many of the tasks under the contract will take place in some of the world's most difficult and austere environments, he said, such as Colombia, Yemen, Afghanistan and the Trans-Sahel region of Africa, which includes Morocco, Tunisia and Algeria in the north, and countries bordering the Sahara including Mauritania, Niger, Mali, Mauritania, Chad and Senegal.Another big award that Global (USA) is vying for is the multimillion-dollar contract from the Joint Contracting Command in Iraq to cover all coalition bases, Hillen added.SFA, a $500 million defense and intelligence contractor, will continue to operate as an independent subsidiary, retaining its name, management team, employees and infrastructure.Jones said the SFA board is working with the management team to execute a growth strategy. "We're just trying to add a broader vision, additional resources and just an amount of energy to get to that $500 [million] to $1 billion [level] in three to five years," he added.Global (USA) will continue to pursue partnering, mergers and acquisitions plans, and other business arrangements. "We're in various stages of discussions," Jones said, but declined to name any companies under consideration or say how far along any acquisition talks are."One can ask, 'When will the next deal be?' " he said, "and I can honestly say I don't know because every deal has its own life cycle."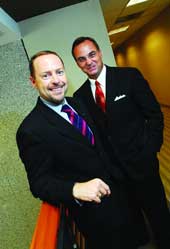 John Hillen (left) and Ron Jones of Global (USA)
Rick Steele
Associate Editor David Hubler can be reached at dhubler@1105govinfo.com.