Text-to-speech app becomes virtual partner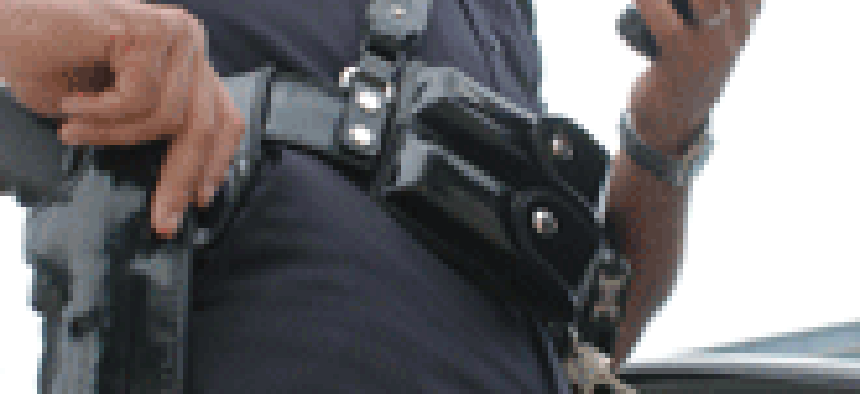 Sometimes just a shift in perspective can solve a glaring problem.That's what happened to Jeff Rubenstein, a Delray Beach, Fla., reserve police officer, who switched from night work to the daytime beat a few years ago. On sunny afternoons, he couldn't read the screen on the notebook PC in his cruiser because of glare.Rubenstein hit upon the idea of using text-to-speech software that could read aloud license plate and other vehicle information involved in a routine traffic stop.Rubenstein, who before joining the police had been president of Internet service provider CyberGate Inc. in Fort Lauderdale, Fla., found himself catapulted back into the IT world. He is now president of Advanced Public Safety Inc. of Deerfield Beach, Fla., maker of Virtual Partner, the software inspired by Rubenstein's days in the too-sunny squad car.Now, Virtual Partner is used by more than 300 police departments in the United States and Canada. One, in Aventura, Fla., has seen officer safety improve and unpaid tickets decline as a result of using the software.In a typical traffic stop, an officer will run the car's license plate information through FBI's National Crime Information Center 2000 system, as well as the Florida Motor Vehicles Department database, said Aventura Police Sgt. Tom Labombarda.Before an officer even gets out of the car, Virtual Partner will send a voice response back, letting him know if the tag is valid or the car possibly is stolen. The software also lets the officer know if the driver is a habitual traffic offender, has a valid license and registration or is wanted on an arrest warrant. The officer receives this information without having to take his eyes off the subject."That's a huge officer safety benefit," Labombarda said.Virtual Partner uses a human voice, not a computerized, robotic-sounding voice, he said.Mobile thermal printers from Zebra Technologies Corp. of Vernon Hills, Ill., also were installed in 26 Aventura, Fla., Police Department cars, Labombarda said. The Bluetooth printers are distributed by Advanced Public Safety."Every year, 150,000 citations in the state are dismissed because of bad handwriting and simple errors," Labombarda said. Florida was losing as much as $10 million each year in unpaid tickets.Now with Virtual Partner, officers use a pull-down menu to select the violation and issue the citation, reducing the possibility of error. As a result, tickets aren't contested in court as often, and more tickets are paid.Traffic stops also take less time with Virtual Partner, and there's been an unexpected side effect ? fewer complaints against officers, Labombarda said.With the new software, filling out and printing a citation takes about a minute. An electronic copy of the ticket is sent automatically via FTP over a wireless network from Verizon Communications Inc. of New York to the department's records management system from SunGard HTE Inc. of Lake Mary, Fla."The longer an officer is on a traffic stop with a subject, the longer the subject has to think about it, and the longer the person has to get angry," Labombarda said. "Now, because the stops are faster, people don't have as much time to react."Virtual Partner works with any Microsoft Windows operating system and overlays the mobile data terminal the department already has, Labombarda said. "It works with all of them," he said.That had been a concern for Aventura, which had invested millions of dollars in its records management system and other law enforcement technology. That Virtual Partner worked with its equipment was definitely a plus, Labombarda said.Aventura runs Virtual Partner on Dell notebooks, most of them with Windows XP. Officers also use the software on handheld devices equipped with bar-code scanners from Symbol Technologies Inc. of Holtsville, N.Y., to scan driver's licenses.Symbol's mobile devices were chosen because they are rugged and allow data captured to be transmitted in real time, said Bill Hartwell, Symbol's vice president for its federal business."In the case of Advanced Public Safety, the Symbol MC50 allows these law enforcement professionals to replace a cell phone, PDA and pager with one converged mobile device," Hartwell said.Virtual Partner "was developed by cops for cops," Labombarda said. "The majority of software vendors out there have little law enforcement experience. When [Rubenstein] wrote this program, he did it to make his job easier. And most of his technical people he works with are former law enforcement officers."Trudy Walsh is a senior writer with Government Computer News. She can be reached at twalsh@postnewsweektech.com. If you have an innovative solution that you recently installed in a government agency, contact Staff Writer Doug Beizer at .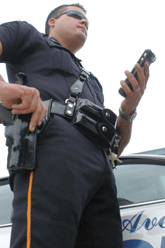 Aventura, Fla., Police Officer Aldo Alfonso uses Virtual Partner on a handheld device.
dbeizer@postnewsweektech.com