CHANNEL LEADERS: Top of their game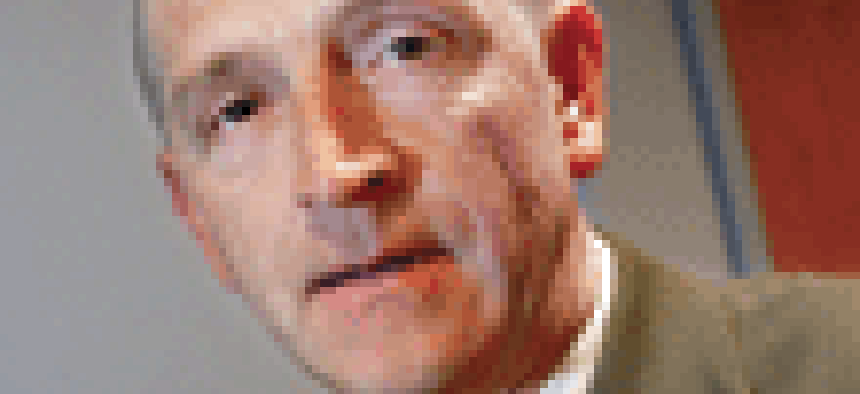 As the water within their Pensacola, Fla., building began to reach ankle depth ? thanks to 2004's Hurricane Ivan ? Computer Sciences Corp.'s employees working with the Navy put aside personal worries and focused on how to keep the operation running.
As the water within their Pensacola, Fla., building began to reach ankle depth ? thanks to 2004's Hurricane Ivan ? Computer Sciences Corp.'s employees working with the Navy put aside personal worries and focused on how to keep the operation running."We said to ourselves, what can we do now?" said James Kasler, CSC's manager for the Navy Enterprise Business Solutions Office.While some employees worked on cutting away downed trees and installing tarps on the roof, others focused on the computer system that, among other things, helps run the Navy Knowledge Online portal."In the meantime, we got some trailers, and I had my network guys plug into the system in the building, which was still good," Kasler said. "We also managed to find some dry square footage in the top of the building, and we were back online."Dedication to the customer is the reason Kasler and 14 others contractors were chosen for Washington Technology's Government Channel Leadership Awards. Besides leadership skills, all the winners demonstrated the ability to build project teams, solve customer issues and anticipate market trends and demands.STRONG TEAMS KEY SUCCESSRaytheon Co.'s Stephen Bohan said much of his company's success on the Advanced Field Artillery Tactical Data System program for the Army and Marine Corps is attributed to building a strong team."The most important aspect of team building is to get a government industry team, first and foremost," said Bohan, who is a program manager for Raytheon. "In other words, bring your customer in on the team-building process, and put them on your team. Here in Fort Wayne, Ind., we have customer representatives with us at our plant, and they participate in our meetings."The artillery system is a command and control system that determines the best way to attack targets.Bohan talks to his customers daily and schedules formal status meetings with them at least once a week."That gives the customer the chance to air issues and concerns about the program and where it is going," he said.For Nancy Scheer-Nelson, a program director for Northrop Grumman Corp.'s work with the Centers for Disease Control and Prevention, finding people that can see beyond the technology on projects makes for a good team."We found out early on that we had to recruit and hire people that were mission-oriented folks," Scheer-Nelson said."If people just wanted to be on the cutting edge of technology, what we do is probably not for them. Our customer is focused on the mission they're trying to deal with in terms of public health, whether it be obesity or HIV/AIDS or heart disease or tobacco-use prevention," she said. Scheer-Nelson's team works with CDC officials on a range of IT-related projects, from surveillance systems to helping with research and developing Web sites.Once a team is established, ensuring it remains a cohesive force is also important, said Edward Harris, vice president for an Apogen Technologies Inc. subsidiary ITS Services. Apogen of McLean, Va., is in the process of being acquired by QinetiQ Plc of Farnborough, England.In Harris' case, maintaining cohesiveness is a challenge. His 170 employees are scattered throughout the country providing local area network support for U.S. Customs and Border Protection."We hold national teleconferences every two months that bring the entire nationwide team together to discuss issues," Harris said. "That way, personnel in Washington state get to hear about the stuff going on in Florida."Harris' group also is developing a Web portal specifically for its employees to let them collaborate and communicate, he said.Steve Krauss runs GTSI Corp.'s Enterprise Storage practice. His team works with a variety of manufacturers, such as EMC Corp. and Network Appliance Inc., as well as several government customers. A key to his group's success: they are experts on the technology as well as on how government customers work."We can help the customers understand how to build the best IT infrastructure for their applications as it relates to the way they manage, store and protect their data," he said.For Apogen's Harris, having highly experienced people in the field to work with customers is the best plan to handle problems fast."These are people that have been in the game for a while, they're not junior-level personnel who may not know what to do in a certain situation," Harris said. "Especially with this particular project where you're dealing with folks on a national security level, we can't afford to have folks who panic at a time when panicking is not an option."A LOOK TOWARD THE FUTUREEven with pressing issues such as the Asian bird flu threat, Scheer-Nelson expects budgets at CDC, as with other federal agencies, to be tight in 2006."Even the areas that are growing are not growing at the pace of what they used to," she said. "That means CDC has to become more efficient. They've got to justify everything they do before they start development, and that means we need to be knowledgeable about what they're trying to accomplish, so that we can give more recommendations on how things can be done more cost effectively and efficiently."GTSI's Krauss has been advising his manufacturer partners about the trend in the federal IT channels for deal registration programs. Essentially, the programs give incentives for resellers and integrators to become experts and promote certain technologies.Through the programs, a company invests time and resources into becoming an expert on a product. In return, resellers that register with the vendor can earn more margins."The trend is these programs have become more robust and more popular," Kraus said. "And the manufacturers that are adopting those programs more aggressively are finding they have a much more loyal and effective channel following. The companies lagging behind in that trend are losing traction, because they're not adopting those practices."A trend CSC's Kasler expects to grow in 2006 is government agencies taking a second look at using commercial products."People are starting to realize [commercial] products aren't the answer in a lot of situations," Kasler said. "They're going more toward custom-code solutions, which I think is the right answer in a lot of respects."Often, by the time a commercial product is customized, so much work has been done that it ceases to be a commercial product anymore, Kasler said. Government agencies may choose to develop their own applications that operate within new federal enterprise architectures, he said.Another developing trend that many of the Channel Leaders are watching is the consolidation of contracts at the Homeland Security Department."The vast numbers of DHS organizations generally had, and still have, separate contract vehicles to get their IT work done," Harris said. "The agency has started a big push to get those contracts under control and under more of a consolidated structure."Staff Writer Doug Beizer can be reached at dbeizer@postnewsweektech.com.XXXSPLITXXX-[IMGCAP(2)]CDW Government Inc., Vernon Hills, Ill.Adams manages public-sector contract bids and program management. He created CDW-G's small-business partner program, which lets small businesses use the company's e-commerce, service and distribution capabilities.The program helped one small business win a 10-year Air Force contract for support services with CDW-G to provide hardware, software and network components.Raytheon Co., Lexington, Mass.[IMGCAP(3)]Bohan manages the Advanced Field Artillery Tactical Data Systems, a command and control program for the Army and Marine Corps. He oversees software development, integration, testing, delivery and sustainment of the systems' products and services. During the $140 million contract, Bohan made improvements that have cut Raytheon's costs by 6 percent and saved the government $1.5 million a year. The contract also has remained under budget and had no late deliverables.Work on the contract has brought in foreign military sales to Portugal, Egypt, Turkey and Bahrain. Raytheon also has used the command and control technology to secure work on such program as the DD(X) Navy destroyers and Future Combat System.Northrop Grumman IT, McLean, Va.As technical director for architectures on Northrop Grumman's contract with the National Weather Service, Brown applied modeling and simulation capabilities for NWS to verify the infrastructure design before buying new products and services. Agency officials used the tool for strategic planning to justify their budget requests. Over the last three years, Brown has helped Northrop win new customers with the State Department, National Reconnaissance Office, Army, Navy, Air Force and Defense Information Systems Agency. Brown's systems models have become a standard part of Northrop's enterprise architecture bids.CDW Government Inc., Vernon Hills, Ill.[IMGCAP(4)]Grimsley created the government unit's technical services team instead of outsourcing that work. With CDW-G's employees in the field doing implementations, the company has been able to spot more sales opportunities and win new work, contributing to its 30 percent per year growth rate in its government business. The technical services staff has grown from 15 to 60 employees in the last two years. Grimsley also created the strategic sales team to sell to systems integrators and improve CDW-G's ability to partner with large integrators.Apogen Technologies Inc. | McLean, Va.Harris oversees several teams supporting the Homeland Security Department's 100 ports and border crossings. The teams provide 24-hour a day IT and LAN support. When DHS rolled out the U.S. Visit contract in 2004, Harris hired 120 people in seven months, all of whom had to undergo background investigations. His division's revenue increased by $22 million. With his hires coming on board more quickly than expected, the company's margins on the project also improved. Apogen projects that Harris' division will account for 10 percent of its total revenue in 2005 and be a profit leader.Siebel Systems Inc., San Mateo, Calif.When Honaker started Siebel's business with the intelligence community, there was no revenue and no partners with security clearances. In fact, he was the only Siebel employee with a clearance. Today, revenue is more than $10 million, and Siebel's customer relationship management software was picked for the transformation of the Defense Intelligence Information Systems. Honaker also helped convince Siebel to invest $150,000 to get its CRM product Common Criteria certification. He also has worked with Siebel's partners to certify their employees as cleared Siebel Certified Consultants.ITS Corp., San DiegoJoosse oversees ITS' General Services Administration's Answer contract, on which GSA has rated the company as the top contractor for six years. The company has won more than 300 task orders under the contract, which also has helped it grow from $5 million a year in 1998 to a projected $65 million in 2005. Customer satisfaction surveys are one tool Joosse has used to build the company's success with Answer. The survey includes an explanation of the importance of customer satisfaction and requests brutal honesty. Follow-up is immediate.Computer Sciences Corp., El Segundo, Calif.Kasler is responsible for CSC's work on the Navy Training Management System, which helps the Navy Education and Training Command make decisions on manpower, personnel, training and education. When Kasler joined CSC in 2001, the company had about 12 people supporting the Navy Education and Training Command. Today there are more than 400. The company considers Kasler a growth engine: in CSC's fiscal 2005, he was budgeted to bring in $3 million in revenue; he delivered $15 million.GTSI Corp., Chantilly, Va.[IMGCAP(5)]Krauss started GTSI's enterprise storage technology practice and increased sales eight-fold. He used the company's financial services capabilities to help keep a multimillion-dollar Army storage consolidation project on schedule. The fiscal year was ending, and funding was running out, so Krauss structured a lease for hardware and software that needed a down payment of less than 3 percent. Without the lease, the project would have been delayed months.Raytheon Co., Lexington, Mass.Raytheon JPS Communications designs and sells hardware and software communications products. Martin was integral in securing a GSA schedule for these products, and that has helped the division grow. He also fostered partnerships with other companies, such as Sprint Nextel Corp. That partnership helped the two companies break down barriers to communications between disparate radio systems, making them interoperable. In overseeing a winning bid on a $3.8 million Naval Air Warfare Center contract for the U.S. National Guard, Martin often removed equipment or technologies that were inserted into the bid because he considered them unnecessary. Actions such as these have helped him build a strong trust with his customers.CGI-AMS, Fairfax, Va.Merrill manages CGI-AMS' contract with the Virginia Taxation Department, which the company won seven years ago to modernize the state's tax system. His leadership helped CGI-AMS realize $150 million in revenue with higher-than-average margins. The Partnership Project with Virginia also was the company's first benefits-funded project; it now has 10 of them. The success of the project, which services 200,000 businesses and 3.4 million taxpayers, led the state to tap CGI-AMS to run its tax amnesty program in 2003. The program pulled in $98.3 million in unpaid taxes, much higher than the $48.5 million goal.Sullivan International Group Inc., San DiegoNelson was a liaison between GSA and the Drug Enforcement Agency when DEA needed to build a secure drug storage and testing facility with stringent LAN requirements. Sullivan did little IT work before Nelson joined the company in 2001, especially when compared to its construction and environmental engineering work. Nelson aggressively pursued contract vehicles, such as the GSA schedule, and created partnerships with other IT companies. The company now can take on projects such as providing LAN and WAN design and implementation services to the Defense Department's Tri-Service Infrastructure Program Office.Northrop Grumman IT, McLean, Va.Scheer-Nelson has led Northrop Grumman's CDC business since 1996. The unit has had double-digit growth for eight years, with sales approaching $100 million. The unit recently won a follow-on contract worth $500 million over seven years, and Northrop Grumman now holds several CDC contracts. Her original staff was about 120 people; today it is more than 1,000. Scheer-Nelson's strategy has several components: reduce program cost and complexity, provide value-added services, and move from IT staff augmentation to public health-centric projects and services. For example, Scheer-Nelson has helped develop seminars focused on public health disciplines, such as epidemiology, and tools, such as registries and surveillance systems.AmCad LCC, Reston, Va.The only finalist nominated by a customer, Schoenfeld led the AmCad team that automated the circuit court records of Virginia Beach, Va. The project increased productivity by 30 percent as well as converting records for the past 30 years to a digital format. The project is generating revenue for the city, because it can sell its records via the Internet. Schoenfeld has helped grow AmCad to a $15 million a year company with more than 100 customers in 15 states.[IMGCAP(6)]Artel Inc., Reston, Va.Spitler led Artel's efforts under the DISN Satellite Telecommunications Services-Global contract, a $2.2 billion task order to provide communications services to the military. Spitler worked with DISA to evaluate problems and find solutions. With Intelsat as its partner, Artel helped supply satellite communications for operations Enduring Freedom and Iraqi Freedom. Spitler and Artel helped the Defense Department gain real-time control and monitoring of satellite assets, which helped the Defense Department save 30 percent of its costs.

"We found out early on that we had to recruit and hire people that were mission-oriented folks," said Nancy Scheer-Nelson of Northrop Grumman IT.
Robin Nelson





KEVIN ADAMS | Vice president, program managementWhy he's a leaderSTEPHEN BOHAN | Program managerWhy he's a leaderBRUCE BROWN | Technical director, enterprise architectureWhy he's a leaderKENNETH GRIMSLEY | Vice president, strategic salesWhy he's a leaderEDWARD HARRIS | Vice president, nationwide LAN supportWhy he's a leaderJOE HONAKER | Client manager for national securityWhy he's a leaderSTANLEY JOOSSE | Vice president and program managerWhy he's a leaderJAMES KASLER | Manager, Navy Enterprise

Business Solutions OfficeWhy he's a leaderSTEVE KRAUSS | Senior manager, enterprise storageWhy he's a leaderLEE MARTIN | Director of sales, Raytheon JPS CommunicationsWhy he's a leaderDEAN MERRILL | Vice presidentWhy he's a leaderJEFF NELSON | Director, business developmentWhy he's a leaderNANCY SCHEER-NELSON | Program director, Centers for Disease Control and PreventionWhy she's a leaderRYAN SCHOENFELD | Vice president, business developmentWhy he's a leaderED SPITLER | Director, telecommunications and satcomWhy he's a leader