Tech success: Lights, camera, NASA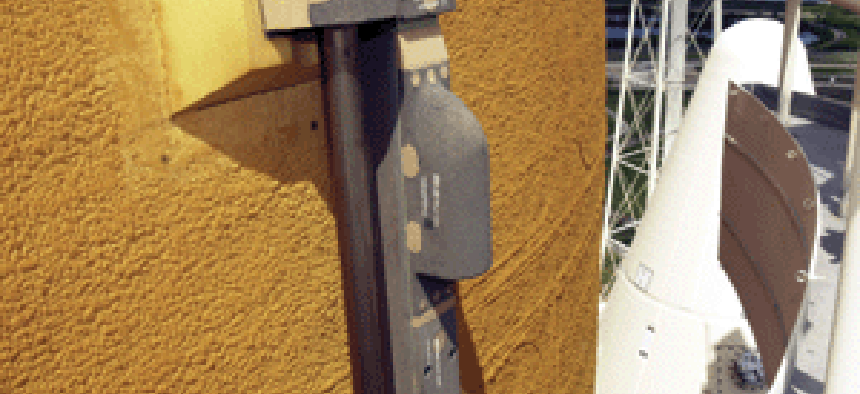 No sooner had NASA officials begun in-vestigating the space shuttle Columbia accident in 2003 when they met an obstacle: problems with the film and video that recorded foam insulation breaking off the fuel tank and smashing into the craft.
No sooner had NASA officials begun in-vestigating the space shuttle Columbia accident in 2003 when they met an obstacle: problems with the film and video that recorded foam insulation breaking off the fuel tank and smashing into the craft.The lens of the camera that had the best look at the foam was out of alignment, resulting in an image that was too out of focus to let analysts discern any details, said Rodney Grubbs, NASA's digital television program manager at the Marshall Space Flight Center in Huntsville, Ala.Officials "then went back and looked at the video shot from a camera sitting right beside the film camera, but the video was analog," he said. Unfortunately, analog video didn't provide investigators with the number of frames or detail they needed to thoroughly inspect the incident.So for the space shuttle Discovery mission ? the first since the Columbia accident, which killed seven astronauts ? high-definition, digital video cameras, as well as film cameras, will record the launch.Twenty-seven Panasonic AK-HC900 high-definition cameras are installed on the launch pad and other ground locations to track the launch. Two cameras will be on a WB-57 research plane that flies at high altitudes and tracks the shuttle from the air. At press time, the Discovery launch was scheduled for July 26, following more than a week of investigation into causes of a fuel gauge failure that scuttled the previous launch attempt.Since the Apollo moon missions, high-speed film has been used to record launches, and film is still considered the highest resolution imagery possible.But film has its drawbacks. It must be sent to Fort Lauderdale, Fla., for processing. It then goes to image analysis facilities at Kennedy Space Center in Florida, Johnson Space Center in Houston and Marshall Space Flight Center, Grubbs said. The process can take up to a day and a half."If there's a problem, you want to identify it early enough in the mission where you can begin planning, conserving fuel, water, food and all those kinds of things," Grubbs said.Although analog video gives analysts a faster way to study launches, it also has drawbacks. One problem is it's a shared broadcast via analog satellite over NASA TV. Analysts must record those broadcasts to study them, and each time the image is rerecorded, detail is lost, Grubbs said.Even the highest quality analog video may not be detailed enough to let analysts do their jobs. Analog video shoots about 30 frames per second, and the images are interlaced. Each frame comprises two fields of alternating lines, which together form a complete image. But such interlacing can lead to blurring.Progressive high-definition TV shoots 60 frames per second, and the images aren't interlaced. Digital also provides a much higher resolution than does analog."We get about six times the spatial resolution and twice the number of frames," Grubbs said.Because the images can be handled like any other data files, digital video also is faster. Moving video from tape to hard drives gained popularity in the late 1980s, said Steve Mahrer, Panasonic's director of engineering. "Now, you have the ability to shoot stuff in the field, transfer that content as a file into a PC editing system, and work with the video as native files," he said.The advantage for NASA is that video files can be moved around via a broadband network rather than an analog satellite feed. A 100-Mbps-plus connection was established among Johnson, Kennedy and Marshall for file transfer."Within hours of the launch, the image analysis facilities at Johnson and Marshall will have exact, bit-for-bit copies of high-definition imagery of the launch," Grubbs said.Although the detail and number of frames help with analysis, they also present a problem: How do you move all that data?"In the good old days, if you were flying a plane with an analog feed, all you needed was a 6-MHz analog channel for your video," Mahrer said. "Being digital means there are a lot more bits, as many as six times as many bits."NASA officials had to find a compression algorithm that could reduce the amount of data without significantly degrading image quality. Uncompressed HDTV travels at about 1.5 Gbps, so two minutes to four minutes of footage would have taken longer than the film to get to the NASA facilities.NASA decided that wavelet compression offered the best performance. QuVIS Inc., Topeka, Kan., won a contract to provide servers to record the camera data.The compression also allows more metadata to be attached to the video, like time stamps. Progressive digital video ensures that the metadata doesn't slip to an incorrect frame."Metadata is incredibly important to customers such as the Defense Department," Mahrer said. "It's very nice to have a picture of something, but [military leaders] want to know where it was shot, how far away, what time and maybe even its Global Positioning System location."Ultimately, this effort will assist in protecting NASA's astronauts, Grubbs saidImage analysts will have much better imagery to work from, he said. "They're going to have more cameras, better cameras, better views, so if there is an incident, they're not going to have to rely on 17 fields of analog video to ascertain what happened," he said.If you have an innovative solution that you recently installed in a government agency, contact Staff Writer Doug Beizer at dbeizer@postnewsweektech.com.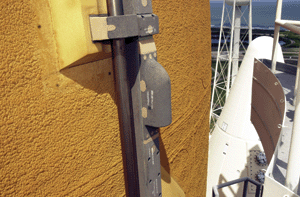 A video camera is mounted on the external fuel tank of the shuttle Atlantis in this 2002 photo, capturing a view of the front and belly of the orbiter as it lifted off (inset).
NASA