Access denied: Industry association excludes competitors, critics charge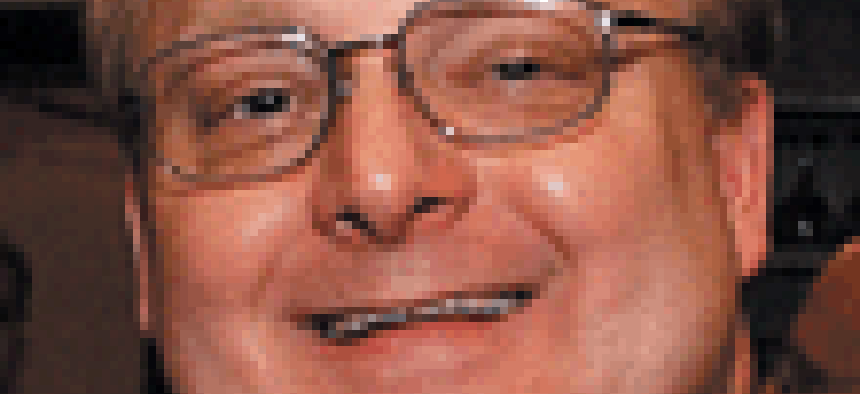 Washington revolves around relationships. Knowing the right people and belonging to the right organizations are critical to getting business done. <b>Steve Charles</b>, executive vice president of immixGroup Inc., wants to join the Coalition for Government Procurement, a well-connected industry group representing companies that hold contract schedules with the General Services Administration. The coalition's close ties with GSA make it a key organization for schedule-holders such as immixGroup. But the coalition won't let immixGroup join, Charles said.
Washington is a town that revolves around relationships. Knowing the right people and belonging to the right organizations are critical to getting business done.Steve Charles, executive vice president of immixGroup Inc., wants to join the Coalition for Government Procurement, a well-connected industry group representing companies that hold contract schedules with the General Services Administration. The coalition's close ties with GSA make it a key organization for schedule-holders such as immixGroup.But the coalition won't let immixGroup join, Charles said.The reason, he believes, is the intimate relationship between the coalition and Washington Management Group Inc., a consulting firm that competes with immixGroup. Both companies help contractors obtain GSA schedules and sell to the federal government. WMG shares the same office with the coalition, provides it with management services and essentially runs the coalition.Larry Allen, executive vice president of both WMG and the coalition, denied that anyone has been blocked from joining."That is inaccurate and false, and I challenge anyone to prove it," said Allen, who runs day-to-day operations for the advocacy group.But Charles and executives from several other companies told they have been denied membership in the coalition.The reason why joining is so important to their businesses, they said, is that the organization enjoys unprecedented access to GSA's Federal Supply Service, the government agency that maintains the multiple-award schedules -- essentially vendors' gateway to federal business. And the coalition is the only industry association that focuses solely on issues affecting GSA schedules.Other Washington-based industry organizations have noted the coalition's special relationship with GSA. "I've envied their closeness," one association executive said.Executives from the excluded companies said the coalition, by denying them membership, is helping WMG's consulting business at the expense of their own.Charles, a co-founder of the McLean, Va., consulting firm, said immixGroup has been turned down twice for membership in the last two years. According to Charles, Allen told him in a phone conversation earlier this year that the coalition's board of directors would not approve immixGroup's membership, even though Allen himself had no problem with it."The coalition would not accept our membership, and we can only presume it's because our consulting business competes with WMG," Charles said.Hope Lane, director of GSA schedules at Aronson and Co. in Rockville, Md., said her company, which does not hold a place on a GSA schedule but advises clients how to secure their own spots, has been "discouraged" from joining the coalition or participating in its events.The company was a member of the coalition several years ago, she said, but the chief financial officer received a call from the coalition saying it could not renew its membership because it provides consulting services.Ron Breland, president of Selbre Associates in Gaithersburg, Md., yet another consultant, was even more specific."We have over the years sent representatives to their public meetings, which we paid to go to, and have been escorted from the function," Breland said. "We petitioned them for membership. ... They denied us membership after numerous meetings asking us to write all kinds of white papers on why we feel we should belong."After discussing these problems with Washington Technology, Breland decided to try again to join the coalition. This time he applied for EC America Inc. of Gaithersburg, Md., another company that he heads. The coalition previously had rejected EC America for membership. Late last month, he filled out a membership application and sent in a $5,000 check for the fee. The coalition accepted his application without asking for any justifications, he said."We went to our first meeting today," he said Dec. 10. "I would not be surprised that it was because a reporter has been making inquiries."Bill Blocher, head of Blocher & Associates in McLean, Va., another consulting company, also submitted a check to pay for a membership a few years ago. When the check hadn't cleared after five months, he called to find out why."I got an embarrassed phone call back," Blocher said. "The person told me I couldn't join because I'm a competitor. I think they misrepresent themselves when they say they're a coalition -- they're a marketing arm of WMG." [IMGCAP(2)]Allen said he did not call Blocher, and that while he could not state absolutely such a thing did not happen, "it sounds unusual [for] our usual business practices. That's not our standard practice."Allen insisted that consulting companies can join the coalition. "No company that has applied in the correct dues category ... has been rejected as a member," he said.According to the coalition's policy statement on membership, consultants can join as affiliate members, provided they pay $5,000 per year for each of their clients. A mid-sized consulting company with 50 clients would have to pay $250,000 per year, compared with regular membership dues that run from $600 to $5,000 per year, depending on a company's revenue.But executives with the consulting companies said the high cost of becoming affiliate members serves as an effective barrier to membership. Julie Akers, vice president of Federal Schedules Inc., Herndon, Va., another Washington Management Group competitor, said she wanted to join the coalition but the membership fee for affiliate members was far too high. "It's hard to believe they have as many members as they do, given their fees," she said. Allen said the coalition's board of directors established the fees. The coalition doesn't have any affiliate members at this time, he said. Washington Management Group would likely qualify as an affiliate member because it, too, is a consulting company, but the company does not belong to the coalition.Richard Coughlan, a professor specializing in business ethics at the University of Richmond's Robins School of Business, said the relationship between WMG and the coalition is "a mess.""The part that bothers me is they seem to be denying a place at the table to other companies," Coughlan said. "The competitive disadvantage affects not only the companies, but it could affect prices being charged. Even if that number is only a dozen, that's a significant enough factor to examine these issues." CONTROLLING THE COALITIONBy all accounts, the coalition has been successful over the years in representing schedule holders. On its Web site, the group states that it represents the interests of all FSS vendors, and that "our members now account for more than half of all commercial products and services sold to the federal government each year."Among the coalition's approximately 300 members are some of the top names in the government IT industry, including Anteon International Corp., Dell Inc., IBM Corp. and Northrop Grumman Corp.As part of its appeal, the coalition touts its "unique" relationship with GSA, based on a "partnership alliance" with the agency, a formal agreement entered into in 1995.Julie Kesterson of SenSoft International Inc., a small company in Herndon, Va. that provides catalog publishing services and is a member of the coalition, said the relationship between the group and the agency is a major benefit. Donna Bennett, FSS commissioner, "is always on stage and offering the keynote for the coalition," she said."The coalition does great things helping the schedules program. I'm definitely an advocate of what they're doing," said Aronson's Lane, explaining why her firm would like to be a member.Although many people believe Washington Management Group owns the coalition, Allen said the coalition is separately incorporated as a 501(c)(6) nonprofit, the IRS category for advocacy groups. "The coalition is really owned by its members. What would WMG ... own if the companies decided they weren't going to belong?" he said. "It's akin to a club that's comprised of members; [they] are the ones who have a vested interest in the association."But the coalition has no employees of its own. All the people who work for the group, including Allen, are also Washington Management Group employees, he said. The coalition's offices are in the company's offices in downtown Washington.The board of directors for the coalition meets once a year and awards a "management contract" to Washington Management Group to handle its operations, Allen said. Four of the seven directors on the board are Washington Management Group employees, and one of the outside directors is the coalition's auditor. The coalition does not hold elections for officers or board members, and Allen said he's always believed that members like the fact that they don't have to take time away from their jobs to help direct the organization.In 2002, the coalition brought in about $396,000 in membership dues and paid at least $380,000 to WMG for "management and general expenses," according to the Form 990 it filed with the Internal Revenue Service. The coalition also generated $315,000 in fees from seminars, conferences and publications.Washington Management Group has long had close ties with FSS. Its chairman, Paul Caggiano, has been president of the coalition for years. Before he came to the company, Caggiano was assistant commissioner for contracts at GSA in the 1970s. The president of the company, Bill Gormley, joined in 2000 when he left his position as assistant commissioner for acquisitions at FSS. Carolyn Alston, the company's general counsel, was Gormley's successor at FSS before she came to the company in 2002. In early 2002, Koniag Inc., an Alaska Native corporation headquartered in Anchorage, purchased WMG. According to the revenue for WMG grew from $2.8 million that year to nearly $4 million in 2003, with net income of more than $1.1 million. JOINING THE CLUBWith the rapid growth of the GSA's IT schedule as a source of business, the coalition's openness to all schedule holders is becoming more important, contractors said. GSA IT schedule sales grew from $7.9 billion in fiscal 1999 to more than $14.8 billion in 2003, about 56 percent of all the schedules' revenue. And the trend is likely to continue, according to reports by the General Accounting Office and testimony at congressional hearings."The coalition is closer to GSA than any other association out there," Charles said. Because his firm isn't allowed to join, "I'm afraid I have to do double duty" to keep abreast of important issues .However, an FSS spokeswoman discounted the perception that the coalition has a special relationship with the agency."GSA has an open-door policy to all interested vendors and vendor representative organizations," said agency spokeswoman Viki Reath. "We encourage an ongoing dialogue with all vendor groups in an equal access manner to ensure continual improvement of our processes."Reath said the coalition and the agency entered into a pact in 1995, promising to work together, and that there is no other agreement like it between any part of GSA and any other association. But the agreement expired in 2000, and FSS did not renew it, she said.Despite numerous requests for detailed interviews, FSS has not said why it allows the coalition to continue promoting its unique relationship with the agency when the agreement is no longer in force.Allen said the Web site is not misleading, even though the agreement expired. "It doesn't say it hasn't lapsed," he said.Staff Writer Patience Wait can be reached at pwait@postnewsweektech.com.

"The coalition would not accept our membership, and we can only presume it's because our consulting business competes with WMG." ? Steve Charles of immixGroup
Henrik G. de Gyor

"No company that has applied in the correct dues category ? has been rejected as a member." ?  Larry Allen of the Coalition for Government Procurement
Olivier Douliery
Washington TechnologyAlaska Journal of Commerce,