Tech Success: Ion Networks connects San Jose to security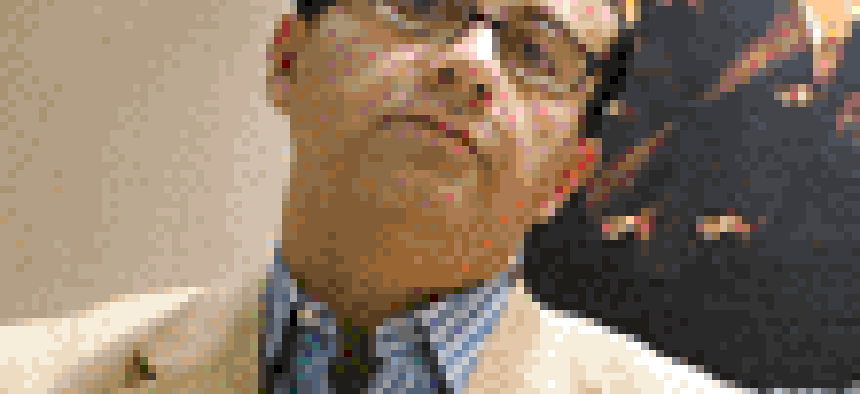 <FONT SIZE=2>When teenagers drag racing in the street knocked out a power box to a Santa Clara County, Calif., adult education center early one evening last November, the school system's network manager was paged within minutes automatically. An Ion infrastructure security system noticed the outage and sent an alert. </FONT>

Kam Saifi is CEO of Ion Networks, whose network appliance can be customized.
Mark R. Sullivan
Infrastructure solution provides unified view of system resources
When teenagers drag racing in the street knocked out a power box to a Santa Clara County, Calif., adult education center early one evening last November, the school system's network manager was paged within minutes automatically. An Ion infrastructure security system noticed the outage and sent an alert.
Bill Masching, then at home, was able to make some quick decisions whether to suspend class that night and the next morning, based on when the phones, data network and power would be back online.
"At home, I was able to watch progress from my pager and from my remote access terminal," Masching said.
As managing telecommunications engineer for the East Side Union High School District of Santa Clara, Masching oversees the digital voice network and a data network for 12 high schools in and around San Jose, as well as six alternative campuses, two adult education centers and eight child-care centers. Masching's network serves 24,000 students and 4,000 teachers.
With only a staff of five and some offsite technical support provided by American Telesystems International Inc., Alameda, Calif., "maximizing the labor force is a great issue," Masching said. Responding to problems such as the drag racing incident can be difficult without full knowledge of the network's status.
This is why Santa Clara purchased security appliances and an administrator portal software package from Ion Networks Inc., Piscataway, N.J. For about $70,000, the school system installed an Ion 3000-series appliance at each one of 15 network nodal locations.
The solution aggregates status reports from data networks, phone lines, security systems, power lines and even public address systems into one central portal. The appliances keep tabs on nearby equipment and are accessible by Internet protocol, as well as out-of-band network links and direct dial numbers. So when a device breaks or is tampered with, administrators or contractors are contacted by e-mail, phone or pager.
Ion's portal software also provides a centralized platform for administrators to gain access to network equipment. Any systems administrator wishing to make a change on a router must log in on the Ion appliance first. The appliance keeps records of who can access which pieces of equipment and what commands they can issue. It also keeps a log of what actions a person takes.
Ion also gives Masching the ability to bring other systems into the network. For instance, he is interested in establishing a service in which a police officer can dial in and broadcast an announcement over a schoolwide public address system. He wants to use Ion to keep tabs on the school's environmental control system, which regulates building heating and lighting. Eventually, a video surveillance system may be linked into an Ion appliance as well.
"When we were talking to Ion's sales folks and application engineers and said we need to handle all these problems, they responded very positively, especially the engineers, who impressed me the most," Masching said. "They said 'You haven't told us anything [that you want to do that] we can't do yet."
Infrastructure security is a growing concern among enterprises, said David Thompson, a senior research analyst for the Meta Group, a research company in Stamford, Conn. What Ion offers is a low-cost alternative for enterprises that don't wish to purchase a more-expensive, virtual, private network level of solution, offered by the likes of Check Point Software Technologies Inc., Ramat Gan, Israel.
Founded in 1990, Ion has approximately 50 employees. For fiscal 2002, it had $7.3 million worth of sales and losses of $6.9 million.
A typical Ion solution will cost an average of $200 per node to install, though it can go as high as $400 per node if there is a lot of underused network equipment to watch, said Bill Whitney, chief technical officer for Ion.
For system and network integrators, this appliance can be customized. For instance, Avaya Inc., Basking Ridge, N.J., has a customized version to offer with its own public-branch exchange equipment, Whitney said.
"We have communications companies that offer managed infrastructure through Ion as a service," Whitney said. He said that a large integrator in Canada was talking with the government to offer service in this sort of arrangement. Other companies, such as Avaya, Siemens AG and AT&T Corp., also use the solution as part of a broader offering.
In the government arena, the company sells mostly through companies such as GTSI Corp. and Verizon Communications Inc.
"They resell the product and provide reseller services around it," said Kam Saifi, chief executive officer of Ion. *
If you have an innovative solution that you recently installed in a government agency, contact Staff Writer Joab Jackson at jjackson@postnewsweek.com.