One year later: Cornerstone of change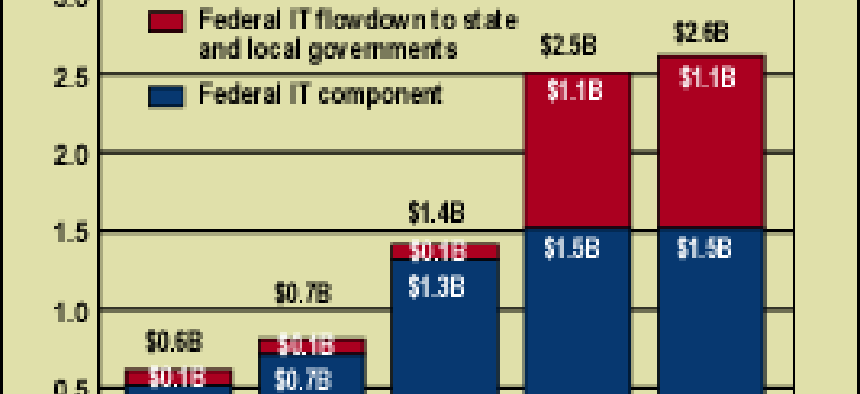 The Pentagon fires were still burning when Tom Buonforte and his team at General Dynamics Network Systems began sifting through the rubble, trying to figure out how they would rebuild the computer and telecommunications networks in the damaged wing.
The Pentagon fires were still burning when Tom Buonforte and his team at General Dynamics Network Systems began sifting through the rubble, trying to figure out how they would rebuild the computer and telecommunications networks in the damaged wing.The company had been working for two years modernizing the network infrastructure in this Pentagon wing, known as Wedge 1, and was just three weeks away from completing the project when the Sept. 11 terrorist attack occurred. Defense Department officials, vowing that defense personnel would be back in Wedge 1 by the first anniversary of the attacks that killed 184 people at the Pentagon, were now giving the General Dynamics' team less than a year to complete essentially the same project."We had to find a new way to work" to meet the deadline, Buonforte said.That meant better communication among the plumbers, carpenters, drywall hangers and IT professionals, less infighting and more cooperation as they worked toward the common goal.Their efforts paid off when the Marine Corps General Counsel's office Aug. 15 moved back into the Pentagon's E ring, the outermost corridor of the building."We had to send a message to the people who did this to us," Buonforte said.General Dynamics' experience is emblematic of how the information technology industry has responded to the government's new challenges and requirements. Sept. 11 changed the government technology market in very dramatic ways.The attacks have generated a flood of new and planned spending, both on immediate needs ? the Pentagon reconstruction effort, for example, will cost $500 million ? and on long-term projects, such as the creation of the Transportation Security Administration and a $1 billion effort led by Unisys Corp. to build the new agency's IT infrastructure.While the commercial technology sector has continued to falter, the government market remains lucrative and is expected to grow to more than $52 billion in 2003, attracting Wall Street and the investment community in ways many executives have not seen before. But despite the scramble for money, many contractors, such as Buonforte, have newfound pride in their work. Post-Sept. 11 ? its meaning and import ? they said extends well beyond revenue and profits. They are working not just for themselves, but for the common good."People go home and worry about the problems they are working on," said Don Vincent, a vice president in the federal homeland security practice at Booz Allen Hamilton Inc. The McLean, Va., consulting firm had three employees killed at the Pentagon. "Now, we are all potential victims." There's also a greater sense of urgency, to find ways to cooperate and move forward quickly as did those who are rebuilding the Pentagon, because such projects are too important to be delayed by bureaucratic infighting or squabbles over money. Even government managers have noted the difference."Post-Sept. 11, things have changed," said Mark Forman, the Office of Management and Budget's associate director for information technology and e-government. Forman said federal agencies are more willing to cooperate and less inclined to resist integrating computer systems and sharing information. "It's a different environment than a year ago. It's flat out, 180-degrees different in terms of the ability to engage in teamwork and joint investments," Forman said.Four years ago, New Technology Management Inc., Reston, Va., began working on a U.S. Customs Service project to modernize border crossings. The agency and a few patrons in Congress were virtually alone in pushing the seemingly less-than-urgent concept. "It wasn't very popular," said Douglas Doan, senior vice president of NTMI.The company completed a proof of concept at seven crossings in Arizona and was set to begin a five-year rollout across the country when the terrorists' strike occurred. Now the multimillion-dollar project has gone from a five-year rollout to two years, and the emphasis is on catching terrorists instead of drug runners, Doan said. The company has doubled the number of employees working on the project from about 40 to 85.Other systems integrators and technology companies report similar trends as agencies seek to speed deployment of planned IT systems and solutions. The Navy, for example, pulled Silicon Graphics Inc.'s Area Air Defense Commander system out of the development lab and had it installed on two command-and-control ships and one Aegis cruiser. The Navy intends to install the system, which is used for planning, coordinating and executing air defense operations, on 17 additional ships."Most of the increase we are seeing is for things that are tactically significant," said John Burwell, senior director of government industry at SGI, Mountain View, Calif.Much of the new work in the months following Sept. 11 was acquired by expanding contracts rather than through new contracts, company executives said. Consequently, most of the companies benefiting from the new spending are those already well-established within the key homeland security agencies."There are a number of our customers who have been doing things that don't hit the radar screen, but they are making changes to normal processes to start to address homeland security," said Arthur Johnson, senior vice president for corporate strategic development at Lockheed Martin Corp., Bethesda, Md.Northrop Grumman Corp.'s IT division has seen business increase sharply with intelligence agencies, said Steve Carrier, vice president of business development for Northrop Grumman IT. Since the beginning of the year, Northrop Grumman has picked up several hundred million dollars in homeland-security-related work in areas such as training, cybersecurity, integration of information sharing, integrating databases and communications.The company is working on many new projects "we are not at liberty to talk about," Carrier said. The company has hired more than 700 new employees and has funded openings for another 350.Government agencies have made few large homeland-security-related procurements so far, but one notable exception has been the newly created Transportation Security Administration, which oversees security at airports around the country. Unisys of Blue Bell, Pa., won the crown jewel of that agency when it captured the $1 billion contract to build its IT and communications infrastructure.TSA also has awarded a $103 million contract to NCS Pearson Inc., Arlington, Va., to hire airport screeners, and a $490 million contract to Lockheed Martin to roll out new airport security systems.Many executives are not surprised that there hasn't been a flood of new procurements. "Wall Street expected that money would flow by Christmas, but I've been telling people don't look for a lot of new spending for 12 to 18 months," said Joseph Kampf, president and chief information officer of Anteon International Corp., Fairfax, Va.Wall Street's interest in government markets began growing before Sept. 11, but the attacks and the subsequent war on terrorism were like an "afterburner" kicking in, said John "Jack" London, CEO and chairman of CACI International Inc., Arlington, Va.London said the amount of time he spends dealing with investors, portfolio managers and other interested parties has doubled in the past year. "There has been an awakening," he said.A publicly traded company since 1968, CACI has doubled its number of shareholders to 24,000 since Sept. 11. In November 2001, CACI had a two-for-one stock split. In March, CACI raised $161.5 million in a secondary offering of stock. Many investors are surprised how solid and how well many government-focused IT companies perform, London said.The awakening on Wall Street is also evident in that several government technology companies conducted initial public offerings of stock in what otherwise was a slow IPO market."I think they see a market that is going to be strong for the next several years," said Ernst Volgenau, president and CEO of SRA International Inc., Fairfax, Va. SRA had its IPO in May with shares priced at $18. On Aug. 27, shares closed at $27.65. While Anteon went public in March, it has always operated as if it were a public company in that it released earnings and revenue figures and met with the investor community, Kampf said. For its IPO, Anteon priced its shares at $18. On Aug. 27, the stock closed at $22.60."Post-Sept. 11 and post-IPO, the interest level has been overwhelming," Kampf said. "We've found people to be much more sensitive to the size of the market, which is huge, and the expected growth in the market space, which is quite robust."After the traditional questions about balance sheets and income statements, "there is a whole stream of questions" about homeland security, Kampf said. Analysts, fund managers, shareholders and other investors want to know how the government is going to restructure, which agencies will see funding increases, what agencies are going to spend the money on and why they will spend that money with Anteon."We get those questions from everyone," Kampf said. "Those are important questions, but they all aren't resolved at this time."The issue that will bring even more change to the marketplace is the proposed Department of Homeland Security and the continued evolution of the government's overall homeland security strategy.The bill establishing the department has passed the House and is pending in the Senate. President Bush's proposal, released in June, called for pulling together parts of more than 20 agencies, including the U.S. Customs Service, Immigration and Naturalization Service, Federal Emergency Management Agency, Coast Guard and Transportation Security Administration. The new agency may have more than 170,000 employees. Creating the agency is deemed the largest restructuring of the federal government since the founding of the Defense Department following World War II. The department will generate business opportunities for systems integrators, executives said, but the president and Congress must first decide how the agency will be structured, how it will procure products and services and what its IT strategy will be."Creating the new department is an evolutionary process," Lockheed Martin's Johnson said. "Before, we had eight or 10 customers. Now, we theoretically will have one customer. But that doesn't happen overnight."Equally important will be the government's overall homeland security strategy. The first draft, released in July, lays out six mission-critical areas: intelligence and warning, border and transportation security, domestic counterterrorism, protecting critical infrastructure, defending against catastrophic terrorism and emergency preparedness and response."The Department of Homeland Security really gives us the best opportunity to rethink the structure of government," said Norman Lorentz, OMB's chief technology officer. Part of Lorentz's job is to develop the federal enterprise architecture, which the administration will use to guide spending. One draft has been completed and is being used by the Office of Management and Budget as it evaluates new IT spending by the agencies to be combined into the proposed Department of Homeland Security, he said.The architecture emphasizes business cases and tying spending back into the mission an agency is trying to accomplish, he said. For technology companies vying to serve the new department, this means they will have to show how their solutions fit into the enterprise architecture and the agency's mission."If I was a player here, I'd make sure I understood the lines of business and the outcomes that were being defined, and be fully engaged in those," Lorentz said.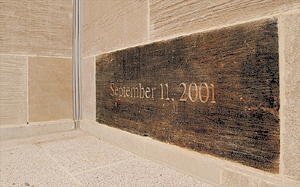 Memorial marker: A charred block of stone taken from the ruins of the west wall of the Pentagon after the attack commemorates the event.
Olivier Douliery

"Creating the new homeland security department is an volutionary process." ? Arthur Johnson, Lockheed Martin Corp.
WT file photo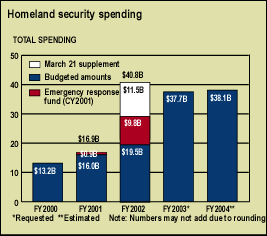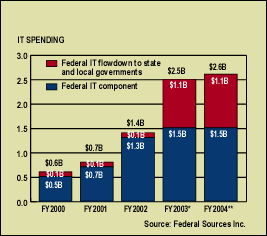 Last year's terrorist attacks sparked heightened interest on Wall Street, a sense of urgency among federal agencies and newfound pride among companies providing IT services to governmentAccelerated spendingWall Street's courtshipUnanswered questions