High-Tech Training Lab Injects Life Into Dying Military Base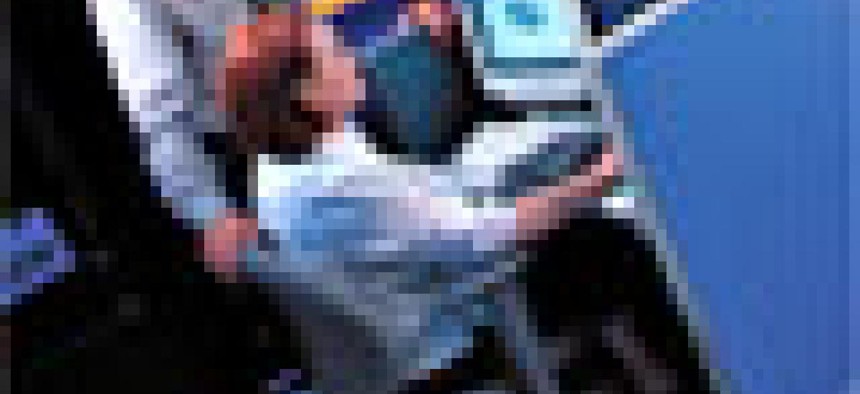 Rick Mann is at the center of an effort to rejuvenate Colorado's work force. As director of the Lucent National Showcase, a high-tech laboratory at the former Lowry Air Force Base in Denver and Aurora, he's leading a technological and educational effort that will bring technology training ? and hopefully jobs ? to each Colorado county.
By Gail Repsher, Staff WriterRick Mann is at the center of an effort to rejuvenate Colorado's work force. As director of the Lucent National Showcase, a high-tech laboratory at the former Lowry Air Force Base in Denver and Aurora, he's leading a technological and educational effort that will bring technology training ? and hopefully jobs ? to each Colorado county.While Gov. Bill Owens has dubbed the region between Fort Collins and Pueblo "Convergence Corridor" because of its technology job growth, the rest of Colorado has not enjoyed similar economic success. And all through the state, technology workers are in great demand."The goal is to find a way to retrain and sustain the Colorado work force using information technologies," Mann said. "Since it's a great place to live, you've got all these telecom giants moving to Colorado. But there isn't an aggressive training initiative to retrain the work force to fit the demand."Project backers believe that trained workers living in outlying areas, coupled with new broadband Internet access in rural Colorado, will spur economic development throughout the state."There's a tremendous concentration of tech jobs and wealth" in the Convergence Corridor, said Alan Philp, deputy director of the Governor's Office of Innovation and Technology. "The areas to the east are largely agricultural and rural. The areas to the west are largely mountainous and rural. That has seriously inhibited their potential to grow. We want to ensure that all corridors of Colorado can experience the same education opportunities and economic development opportunities."The hub of the technology training effort is the Higher Education and Advanced Technology Center, part of a wired community of businesses and homes that is bringing new life to Lowry. Mann describes the 1,866-acre former base, closed in 1994, as "a town that died, being relit by advanced technologies." Other redevelopment projects at Lowry include schools, shops, parks and a golf course.The HEAT Center is a 156-acre training ground for students in information technology, telecommunications, manufacturing, biotechnology and health sciences technologies. A project of the state's community college system, it has received more than $100 million in federal, state and private funding, according to Sally Covington, the center's vice president of marketing and student affairs. About 3,500 students enroll annually, a number that likely will rise to 10,000 within the next decade, she said.The HEAT Center houses the new, privately funded Colorado Institute of Technology as well as Mann's Lucent National Showcase, also known as the Convergence Technologies and Innovations Laboratory. Next-generation distance learning applications developed at the lab will bring technology training to rural laboratories statewide. The distance learning technologies ? voice, video and data ? "will provide literally 24-7 education," Covington said. "We don't think this type of education will replace classrooms, but we can deliver a lot of it over the Web."Tyrone Lindsey, media practice manager with SGI Consulting of Mountain View, Calif., knows firsthand what distance learning applications can do. Silicon Graphics Inc., a Lucent subcontractor, designed and implemented the center's Internet services and planned content for its distance learning program, which enables students in different locations to view lectures and participate in discussions in real time, e-mail professors, submit homework and take exams online."People want interactivity," Lindsey said. "If you have something where you're actually immersed in the experience, that's where the real value-added is."The spokes of the retraining effort are the training centers ? mirrors of the HEAT Center ? planned for Colorado's rural counties. To make these centers possible, Lucent Technologies Inc. will piggyback on work done by US West Inc. and Cisco Systems Inc. under a 10-year, $37 million state contract to bring high-speed Internet access to state offices and schools throughout the state. US West, Cisco and their partners, CenturyTel, Phillips County Telephone Co. and Eastern Slope Telephone Co. are also investing more than $60 million to build out the network."With the HEAT Center and the community college system, we are buying excess capacity on the end of those pipes, extending the fiber to remote end points of the state education system," Mann said.Mann's lab is a showcase for advanced data networking, Internet and video communications technologies. Through the HEAT Center, the state of Colorado formed an alliance with Lucent Technologies and Bell Labs, Murray Hill, N.J., to create and maintain the lab as a test site and showcase for new Bell Labs products. Under the agreement, Lucent will build and maintain the showcase lab and the training centers for eight years, Mann said. So far the company has invested $25 million and the state has invested $9.5 million in the effort, he said.Ultimately, Lucent and the state are to split the $1.5 million cost per training center, although the communities will probably need to do some private fund raising of their own, Mann said.Already, 19-year-old Zach Ruder has benefited from the training initiative. A student at Northeastern Junior College in Sterling, Ruder is putting his education to work this summer as an intern for EduQuest Inc., the Aurora company set up by Mann to manage the partnership between the state and Lucent. One of six EduQuest interns, Ruder is helping to network the Sedgwick County Rural Technology Academy in Julesburg, his hometown. It's the first of 70 training centers planned throughout the state.By this fall, the 4,000 county residents will be able to hone their computer skills through classes at the center, and they'll have the resources to put their businesses online.The project is "pretty unique," Ruder said. "We've never seen high-speed access out here. It should really help our community out."Julesburg native Anna Scott, director of the county technology academy, shares Ruder's enthusiasm. "If we can utilize the [Convergence Technologies and Innovations Laboratory] lab and the college system ... can you imagine the classes we'd be able to bring into our community? Academics ? college classes. Business classes and ... community development ? fun classes," she said.What's more, said Scott, the county's former economic development director: "It gets down to helping small businesses on Main Street. How can they compete on the World Wide Web, and how can we as a community expand ourselves and market ourselves?"By next June, 43 of Colorado's 63 counties will be online, Mann said. "Our job is to try to develop demand with the local community, so they will be able to send new services down the pipe," Mann said. "This is a race right now over the next two years, developing strategy to retrain workers so ... they can generate new jobs in their towns and attract new businesses."