Many States Go Own Way To Check Out Gun Buyers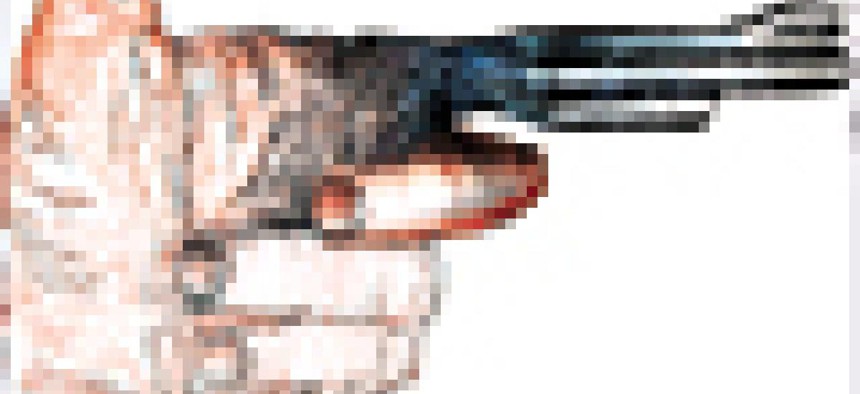 At least 17 states now maintain their own instant background check systems to enable rapid investigation of potential gun purchasers by searching state and national databases for "hits" that would keep the buyer from legally obtaining a firearm.
By Lisa Terry, Contributing WriterAt least 17 states now maintain their own instant background check systems to enable rapid investigation of potential gun purchasers by searching state and national databases for "hits" that would keep the buyer from legally obtaining a firearm.States that operate their own instant check systems can conduct more thorough and stringent checks than states that rely solely on the Justice Department's National Instant Criminal Background Check System, according to many industry and public safety officials.The law prohibits the sale of firearms to illegal aliens, people convicted of crimes punishable by prison terms of one year or longer, and other groups of people.State systems also provide much-needed relief against burdening the NICS. Although state systems search NICS as well, denials of gun purchases based on state data mean the national system need not be queried. "The turn-down rate is a lot higher in Tennessee and Oregon than the national system. That's a benefit to society," said Al Williams, president of Tailored Solutions of Salem, Ore., which produced the application used by Oregon and Tennessee instant check systems.There are other benefits as well. For example, because Connecticut integrated its armed security guard, pistol permit and other databases with its instant check system, "when you do one thing, you can now check for everything else," which helps flag violations, said Robert Kiehm, commanding officer of regulatory services for Connecticut. Some states have developed their instant check systems internally, while others outsourced them. Connecticut used KT International, East Hartford, Conn.; Illinois contracted with Rockwell Electronic Commerce, Wood Dale, Ill.; and Pennsylvania selected Unisys Corp., Blue Bell, Pa.Despite the advantages of the state instant check systems, it is unclear whether additional states will implement their own systems, largely because the NICS can be used free of charge. In contrast, the cost of a state system could range from $500,000 to $4.5 million for Pennsylvania's system. Ongoing maintenance and personnel are additional expenses, which most states fund through transaction fees.Another obstacle to the state systems is the controversy surrounding gun control. Gun control advocates tend to dislike instant check systems because they remove the emotional cooling-off period for buying a firearm, do not allow for non-computerized data to be checked and sacrifice accuracy and reliability, according to Handgun Control.Gun advocates, such as the National Rifle Association, support instant checks to minimize inconvenience to legal gun purchasers, says Jim Manown, a spokesperson. The Brady Handgun Violence Prevention Act, signed into law Nov. 30, 1993, requires federally licensed firearms dealers to request background checks on anyone attempting to purchase a firearm. The act also required the Justice Department to establish the NICS for the states to use. Some states developed instant check systems before NICS came online, while others handled inquiries manually until NICS debuted in November 1998. In the latter states, firearms dealers now make a toll-free call to national operators to conduct background checks. Some states gave up their instant check systems in favor of using NICS.Several states, including California, continue to maintain and enhance their own systems; they are known as "point of contact" states. Twenty-six states serve as the point of contact for handguns, fewer for long guns, according to Sheila Barton, deputy executive director of Search, Sacramento, Calif., which provides states with technical assistance.Search helps states improve the infrastructure that supports these systems, such as fingerprint management and information flow issues. More advanced instant check systems consist of a relational database to collect and format transaction data, a dealer interface, a call center module and a billing system. Online "hits" that raise questions over the legitimacy of the request are kicked over from the automated system to live operator screens, so people may investigate.Some systems incorporate other functions, such as a module for permits to carry guns. Pennsylvania's system also includes a "challenge module," so a person whose application is initially denied, then later approved, does not have to repeat the process for every gun purchase, as long as the denial trigger remains the same. The system also references driver's license databases to help confirm the identity of gun buyers. Less sophisticated systems are partially manual.One decision facing system designers is what method to use for collecting data from gun dealers. Telephone calls to a bank of operators had been the method of choice, but this is being supplemented with more automated approaches to handle most checks. Tennessee chose to deploy point-of-sale devices, which feature a keyboard and LED for input and a printer to deliver the approval/denial/pending message; now at least two thirds of transactions employ that system. Connecticut created software for dealers' point-of-sale systems, while Pennsylvania and Illinois turned to interactive voice response (IVR) systems that make use of touch tone. Illinois also is considering Web-based solutions or point-of-sale devices and magnetic-striped gun registration cards."One thing we wanted to improve upon [compared with other states' systems] is the interaction with dealers and the response time and cost to dealers," said Phillip Winiarski, solutions director for Unisys' Justice Public Safety practice. "That's why we implemented IVR."Connecticut saw average calls drop from seven to 10 minutes down to 30 seconds with its automated system, and saved the cost of re-entering data into three different systems. Call volume going to live operators dropped to 10 percent of traffic in Illinois when it started routing calls through the automated IVR system. And Pennsylvania reports it has logged more than 200 arrests on outstanding warrants as a result of the instant system.Together with the NICS , the state instant check systems are making an impact, said Ron Plesco, director of the Pennsylvania State Police Policy Office."For the first time in the history of the United States, people who were buying guns in violation of the 1968 law because they realized they couldn't get caught" are now being prevented from doing so, he said.XXXSPLITXXX-States face many challenges and problems when building their own instant check systems for gun buyers: In some jurisdictions, if the background check is not completed within a certain period of time, the dealer is free to complete the transfer of the firearm to the buyer. While generally this is not a problem for the approved or denied responses, which these systems normally render within minutes, it can be an issue when the system kicks out the inquiry to a live operator for further inquiry. The quality of the check is only as good as the data it can access. States with less automated systems for reporting the dispositions of arrests, court proceedings and the like run the risk of granting approvals in error. Perhaps the biggest obstacle to efficient check systems is the timeliness of this data. Depending on state statutes, the system may need to check a number of databases, including those containing state criminal history records, mental health admissions, orders of protection, vehicles missing or wanted, stolen weapons and the NICS, which itself accesses many other databases. Most designers report few problems interfacing with other databases, because many reside on the same state network. But outmoded technology can slow response times. Some states, such as Illinois, keep data on purchase denials permanently. Others, such as Tennessee, are required by law to purge the data. "We collect a lot of data, but none of it references a person to a gun," said David Bolme, director of information systems for the Tennessee Bureau of Investigation. Not having the transaction data "can be a pain in the neck when someone challenges the decision. You have to run them again." Tennessee had 303,509 checks in 13 months; Illinois, 185,000 in a year. Pennsylvania, which has a high rate of gun ownership, has logged as many as 1 million calls in a year. Heavy traffic tends to peak in hunting and gift-giving seasons. System designers report meeting state deadlines can be a real challenge. In Tennessee, a typo in the legislation shaved a month off system implementation time. It can be difficult to resolve slight differences in data from one source to another, such as use or omission of a middle initial. "We had one gun shop identified 250 different ways," said Robert Kiehm, commanding officer of regulatory services for Connecticut.

? Time constraints.? Disposition reporting.? Data sources.? Data storage regulations.? Traffic.? Deadlines.? Data integrity.