The 1999 Fast 50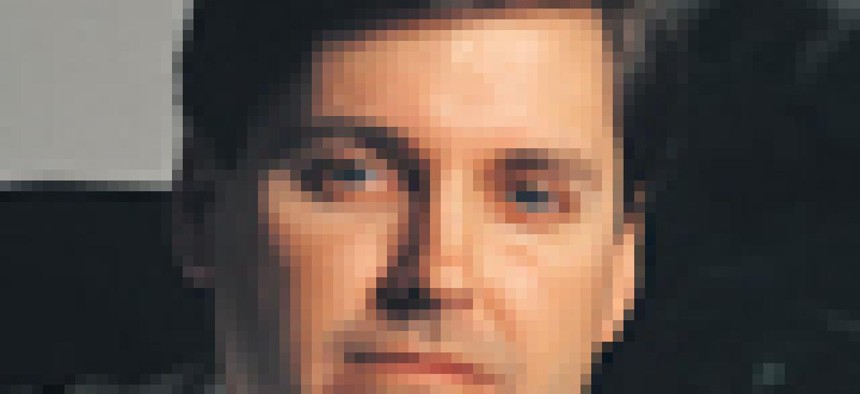 By John Makulowich, Senior Writer With an eye-opening, five-year growth rate of more than 14,000 percent, Vistronix Inc.'s position at the head of the pack of this year's Fast 50 marks a move up six spots from its rank of seventh last year. The IT and professional and technical services firm, based in Vienna, Va., combines the digital world with the analog, the movement of bits and bytes in systems integration and engineering with the more mundane movement of postal mail, furniture and limousines. According to Deepak Hathiramani, president and CEO, who founded the business in 1990, the firm now employs 270 employees full time and has watched its revenue grow from $75,425 in 1994 to $11 million in 1998. Certified under the Small Business Administration's 8(a) program in May 1994, Vistronix also is recognized as a Minority Business Enterprise by Maryland, New Jersey, Pennsylvania and Virginia. The bulk of its business is to provide both mission-oriented and total solution information systems services as a support contractor to such agencies as the departments of Commerce, Defense, Health and Human Services and Justice, the Patent and Trademark Office, General Services Administration and the Securities and Exchange Commission. The company also includes state and local governments among its clients, including Virginia's Arlington County and Prince William County Public Schools and Maryland's departments of Assessments and Taxation, Education, and Labor, Licensing and Regulation. Part of its success is because of fruitful subcontracting relationships with the ilk of BDM Federal, Booz-Allen and Hamilton Inc., IBM Corp. and Unisys Corp. "The major reason for our success has been our technical and management team, as well as our contract performance," Hathiramani said. "Not only do we have a high rate of contract renewals, but at least 50 percent of our business comes from contract referrals." When the company began the 8(a) program, he said, the approach was not to let that program dictate the firm's direction. Today, 65 percent to 70 percent of revenue is generated by federal work, 20 to 25 percent by the state and local sector and the rest in the commercial arena. "Our goal now is to build up two other business units, that is, associations and health care, on the basis of our federal work. Those sectors need two things: the use of technology in today's environment and an approach to year 2000," said Hathiramani. His company completed a study recently on the year 2000 computer bug that showed many associations and health care firms are treating it as a system issue rather than a business one. But the business issue is as important as the more technical, network side of Y2K, according to Hathiramani. That is because the business side amounts to the interface with different vendors and whether elevators and telephones will work at the witching hour. "For Y2K, you have to look at the process in the entire organization, for example, at issues of risk assessment and mitigation. The health care industry obviously has significant risk, with legislative and management requirements to perform independent assessment and meet due diligence demands," said Hathiramani. Alongside these new initiatives are the bedrock work the company has done for such firms as General Electric and its Information Systems division. Vistronix designed, developed and implemented an object-oriented, client-server application for global messaging for GE's information services clients. That work involved migration from a legacy system to a Unix platform and exploitation of the capabilities of leading-edge software technologies. At the other end of the spectrum, Vistronix does work for the U.S. Patent and Trademark Office, performing mail room functions. According to the company, it provides qualified personnel, management, training, administration and technical services to the office and helped eliminate a backlog of more than 100,000 pieces of unprocessed, outgoing mail as well as similar quantities of incoming mail and interoffice correspondence. A recent award was a five-year, $6.8 million contract with the Federal Communications Commission for facilities management support services. The company will perform mail operations, reprographics, transportation for key executives and material and labor support for office moves. The contract also involves administrative functions, such as conference room scheduling, lock and key services, furniture and supply fulfillment and a temporary passenger shuttle during the agency's relocation from the northwest to the southwest section of Washington, D.C.XXXSPLITXXX- By Nick Wakeman, Staff Writer The Small Business Administration's 8(a) program remains a well-used vehicle for entrepreneurs to give their companies a quick growth spurt. In fact, 22 companies on Washington Technology's 1999 Fast 50 list are participants in the 8(a) program for small disadvantaged businesses. Moreover, eight of the top 10 on the list are 8(a) companies, including Vistronix Inc. of Vienna, Va., which nabbed the top spot with a whopping 14,484 percent growth rate over the past five years. While the 8(a) program may give these companies an opening into the $30 billion a year federal market for information technology products and services, it hasn't sheltered them from the forces of competition, according to company executives. "Being an 8(a) isn't what it used to be," said Robert Hill Jr., chief executive of Bay State Computers Inc. of Lanham, Md. His systems integration company exploded from $780,000 in sales in 1994 to $16 million in 1998, a growth of 1,953 percent, and good enough for the No. 21 spot on the Fast 50 list. There are fewer sole-source 8(a) contracts now, so 8(a) companies are competing more among themselves for set-aside contracts. Also, the government is fielding fewer but larger contracts, making teaming with larger prime contractors a must. "In 1995, we could see the writing on the wall, and we knew we had to get competitive quickly," said James Cheng, CEO of Computer & Hi-tech Management Inc. of Lanham, Md. His company is ranked No. 6 on the list and grew in revenue from $238,000 in 1994 to $14.5 million in 1998. "You have to be competitive on price, and you have to put forward a good proposal," he said. Delivering once the contract is won is extremely important, Cheng said, because 8(a) companies face the same past performance evaluations as large IT contractors. Good past performance is needed to get on teams with larger systems integrators, and getting on teams is essential as the government uses more large contracts rather than many smaller ones, he said. His company is on Wang Global's team that won the General Services Administration's Seat Management and NASA Outsourcing Desktop Initiative, both large, multibillion-dollar desktop outsourcing contracts. Each contract has several winners that are now competing for task orders. Hill credited his company's past performance at NASA as the reason OAO Corp. of Greenbelt, Md., selected Bay State to participate on a NASA task order under ODIN potentially worth $500 million. "If we hadn't been on that team, we would have seen our work at NASA drop drastically," he said. Partnerships also have played a major role at RiteNet Corp. of Rockville, Md., the No. 3 company on the Fast 50 list. Rao Ramineni, RiteNet's chief executive officer, has seen his company grow from $54,000 in 1994 sales to $3,887,000 in 1998, a 7,110 percent increase. Although his company has 8(a) certification, Ramineni said he has not used the 8(a) program much. Instead, the four-person telecommunications services company has used partnerships with satellite communications companies and fiber optic companies, such as Comsat, Global Crossing and Loral Orion, to compete with the likes of AT&T and MCI WorldCom. RiteNet specializes in providing the infrastructure for wide-area networks and has done work with the departments of Defense and State and the Air Force. About 90 percent of the company's revenue comes from the federal government. "In the commercial sector, it is hard for a small telecom firm to convince someone that you can do the work," he said. "The government is more open to small businesses." He expects his company to continue its strong growth and could have 25 employees by the end of the year. Europe will be a hot market for RiteNet, which is developing partnerships with telecom companies in Germany, Italy and Finland, Ramineni said. Mega-Tech Inc. of Falls Church, Va., also is an 8(a) looking to Europe for growth opportunities. Mega-Tech has skyrocketed from $230,000 in sales in 1994 to $7.2 million in 1998 by offering information technology and environmental engineering services. It is No. 14 on the Fast 50 list. Charles Schilling, Mega-Tech's chief operating officer and executive vice president, estimated that about 25 percent of the company's revenue comes from work it is doing in former Soviet states. Much of that work is conducted through the U.S. government under the Cooperative Threat Reduction Program. Mega-Tech also is working with the Commerce Department on import/export control projects. "Part of our success has been through our quick responsiveness to clients' needs," said Dolores Fisk, Mega-Tech's CEO. While Mega-Tech has benefited from the 8(a) program, the rising tide of competition and customers who want to move quickly are pushing the company to develop a GSA schedule, she said. The company graduates from the 8(a) program in 2001. The 8(a) program itself likely will be getting more competitive. In 1998, the agency revamped rules for eligibility to the program and could add another 3,000 companies to the 6,000 already enrolled, according to Small Business Administration spokesman D.J. Caufield. At the same time, SBA has reduced the ceiling on sole-source contracts and made it easier for agencies to hire 8(a) companies through regular contracts, he said.XXXSPLITXXX- By Richard McCaffery, Staff Writer Axent Technologies Inc. wants to be the Cisco of the computer security market. The five-year-old Rockville, Md., company is off to a good start. In addition to posting record revenue for the last three quarters, consistently beating analysts' earnings estimates and securing marketing deals with Compaq and Dell, Axent has bought three companies in less than two years and kept a clean balance sheet. More acquisitions are planned over the next few years. "When I look at 1999, I think it's Axent's year to distinguish itself as one of the leaders of the pack," said John Becker, Axent's chairman and chief executive officer. "It's a very fragmented market. There are more than 600 competitors in this space." That competition includes industry giants such as IBM Corp., Armonk, N.Y., Computer Associates International Inc., Islandia, N.Y., and Network Associates Inc., the Santa Clara, Calif., software firm that has spent $1.3 billion buying five companies since April. Axent ranked No. 40 this year on Washington Technology's Fast 50 survey of the fastest growing information technology companies in the Washington area. The software maker has a five-year growth rate of 1,036 percent ? its revenue has soared from $8.8 million in 1994 to $100 million in 1998 ? and Becker expects revenue of $140 million in 1999. Axent is one of just five publicly traded companies to make the Fast 50 list. Its stock closed Dec. 16 at $27.75 a share, near its 52-week high of $32.62. "We like the company," said Roy Lobo, a research analyst at Moors & Cabot Dakin, San Francisco. "It's very well-managed, and we like the products." The company has built a huge security consulting business through its August acquisition of Secure Network Consulting Inc. of San Antonio, Lobo said. Consulting is a key ingredient, because integrating security products is so difficult. "They're very adept," Lobo said. In addition, Axent has landed deals to bundle its firewall products with servers made by Dell Computer Corp. of Round Rock, Texas, and Compaq Computer Corp. of Houston. The latter also has a small investment stake in Axent. Like networking giant Cisco Systems Inc., Axent is looking to grow through acquisitions and establish itself as a recognized commodity in the industry. In 1999, Becker will concentrate on financial goals and continue to build the company's brand name. "We're very focused on branding and strategic partners," he said. "We'll put a lot of time and energy into those areas." Founded in 1994, Axent offers commercial and government customers the whole security software enchilada: assessment, detection, prevention, protection and integration. Customers include Wells Fargo & Co., San Francisco, Chase Manhattan Corp., New York, the Army, the Air Force and the Environmental Protection Agency. Becker expects 5 percent to 10 percent of the company's 1998 revenue to come from government customers. Last year, government customers accounted for less than 5 percent of overall revenue. Computer security is a hot market. Dataquest Inc., a San Jose, Calif., market research firm, expects the firewall industry alone to grow from $255 million in 1997 to $920 million in 2001, and the firewall market is just a slice of the security business. Axent's risk assessment and detection products lead the field, according to Steven Foote, vice president of the Hurwitz Group Inc., a technology research firm based in Framingham, Mass. The market for assessment and detection products ? again just a slice of the overall security software market ? was $65 million in 1997 and is expected to grow more than 50 percent a year through 2000. Axent had a 43 percent share of this market in 1997, said Foote. Its nearest competitor is ISS Group Inc. in Atlanta, which has a 20 percent share. For the last few years, consolidation has been sweeping the security market, but it has accelerated recently, analysts and industry executives said. Axent is shopping for security companies to add to its technology and distribution capabilities. In February, it bought Raptor Systems Inc., Waltham, Mass., for $245 million in stock. The purchase gave Axent additional firewall products along with a distribution channel that includes distributors like Ingram Micro Inc., Tech Data Corp. and Pinacor Inc., as well as more than 300 resellers. In March 1997, Axent bought AssureNet Pathways for $32 million in stock. The deal gave Axent a slew of new authentication products and a team of 50 resellers to add to its stable. Using distributors and resellers to boost the company's market penetration is one of Becker's key strategies. Under his leadership, Axent has increased its channel sales from 9 percent in 1996 to 50 percent this year. Becker said the company has increased its use of the sales channel as the security industry and Axent's products have gained recognition. "I think we've got a very robust set of solutions and delivery mechanisms," he said. For the quarter that ended Sept. 30, the company reported record sales of $24 million, up 41 percent from last year. "We've had a very good year," Becker said. Excluding a one-time charge of $17 million related to the acquisition of Raptor, analysts expect the company to post 1998 earnings of 76 cents a share, up from 53 cents a share last year, according to Zacks Investment Research Inc., Chicago. In 1997, Axent reported revenue of $41.6 million and a net loss of $19.4 million, largely because of a one-time charge of $26.7 million for the acquisition of AssureNet. The only problem is the year 2000 computer bug. Both Becker and Lobo said they're worried about the effect the computer glitch could have on IT spending over the next four quarters. "We're not immune from a meltdown of the economy or a scaling back of resources," Becker said. Yet because computer security is considered a top IT priority, Becker expects to weather the storm. Analyst Lobo isn't so sure. "As we get closer to the year 2000, it will put a strain ? especially on security companies ? to meet their goals," he said. Lobo has a hold rating on the stock.XXXSPLITXXX- By Patrick Seitz, Senior Editor 3-G International Inc. has become a leader in the nascent smart card industry by focusing on the federal government. In business since 1991, the Springfield, Va., company specializes in multiple-application smart card systems that provide computer desktop and Internet security, and store health-care and personnel records. Better known as 3GI, the company brought in $8.3 million in revenue last year, an increase of 1,322 percent over sales of $585,000 in 1994. Thomas Gregg, president and chief executive officer, said his goal is to double sales in 1999 to $17 million. Last year, 80 percent of 3GI's sales were from government customers. They include the Defense Department, General Services Administration, the State Department and the U.K. Ministry of Defence. In 1999, company officials expect the government portion of overall revenue to dip to 65 percent while the commercial side climbs to 35 percent. About 90 percent of the company's business is domestic. The privately held company wants to expand aggressively in 1999 into global commercial markets through partnerships and channel sales arrangements. Executives also are planning an initial public offering within 12 to 15 months, Gregg said. Proceeds from the stock sale would go toward acquisitions and internal growth. The 120-employee company plans to bulk up its staff this year. Company officials noted there is almost zero turnover; finding qualified workers is the tough part. The company's software development center is located in Williamsburg, Va. About 80 employees are based in Williamsburg and 15 at the Springfield headquarters. "Our goal is to continue to grow as fast as we can," Gregg said. "There aren't a lot of explosive markets out there, but this is one." The company ranked No. 35 on Washington Technology's 1999 Fast 50 list of the fastest growing information technology companies in Maryland, Virginia and the District of Columbia. Company officials said there are parallels between the smart card industry and the Internet industry, which was jump-started by the federal government. One of the first markets to embrace smart cards as a way to save money and improve efficiency was the federal government, said Michael Orr, 3GI's director of strategic planning and business development. The commercial market for smart cards should take off when corporations address mounting security concerns, Orr said. Used in conjunction with passwords, smart cards provide an extra level of security for desktop computers. 3GI officials said they expect to see smart card readers bundled with PCs built by the major vendors in the next year and a half. Smart card readers are now sold as add-ons. "The key to this thing really taking off is getting the infrastructure out there," Gregg said. The technology will be adopted rapidly if companies can promote smart cards as solutions for existing problems, Gregg said. For example, putting medical and dental records on smart cards reduces the need for clerks to retype information about patients for each visit. Using smart cards for financial transactions reduces the need for workers to handle money. For small transactions with smart cards, such as with vending machines or laundry machines, people don't have to carry change. Smart cards can automate processes and coordinate the sharing of information. "It's a big money savings for the military," Gregg said. As part of its work for the Navy Smart Card Program, 3GI supplied several thousand smart cards for sailors on the USS Yorktown missile cruiser, said Jim Little, director of commercial programs for 3GI. The cards, used as ID badges and electronic purses, were issued about 15 months ago and have eliminated three positions related to handling money on the ship. The Navy is expected to expand its use of smart cards to other ships by this summer. Donna Farmer, president of the Smart Card Forum, a 200-member trade organization in McLean, Va., said the federal government has been a proving ground for applications such as purchasing cards and security access cards. State universities and transit authorities also have been early adopters of smart card technology, she said. "Issues like privacy and security are going to be the driving force for advancing the market for chip cards," Farmer said. The expansion of smart cards into the commercial markets will depend on getting the infrastructure, such as card readers, in place, she said. Educating the market about the benefits of smart cards also will be important, she said. Smart cards are similar in form to standard credit cards but contain an embedded microprocessor chip. Standard smart cards have 8 kilobytes of memory, but that will soon jump to 16 kilobytes. Using data compression and abbreviations, that amount of memory is sufficient for current uses, 3GI officials said. 3GI provides the smart card system software and integration services, but is hardware neutral, Gregg said. The firm can accommodate equipment using either the Microsoft Windows or Java operating systems. One advantage 3GI has over large IT companies in the smart card business, such as IBM, is its focus. "We are completely dedicated to this one area," Gregg said. Other competitors include London-based ICL, a unit of Fujitsu Ltd. of Tokyo, and Motorola Inc. of Schaumburg, Ill. As part of its growth strategy, 3GI has sought out partnerships based on market segments, such as the banking industry. It has worked with such firms as Electronic Data Systems, Perot Systems, Lockheed Martin Corp. and Visa.

By Richard McCaffery



Many fast-growing Washington area information technology companies can thank the Internet for their soaring success.

"The growth trend in Washington is summed up in three words: Internet, Internet, Internet," Bonnie Wachtel, chief executive officer of Washington-based Wachtel & Co. Inc., told Washington Technology. "What you're really seeing is a whole new area of Internet companies that are experiencing very fast growth."

Washington Technology's 1999 Fast 50 list is peppered with companies focused on networking, electronic commerce, security, software development and Web development. Boil it down, and it's clear many Washington IT firms have found ways to exploit the Internet.

"It will continue until the growth slows down," Wachtel said.

In 1998, 34 companies on the Fast 50 fell under the general category of IT services, integration and consulting firms. Just 26 companies described themselves this way on the 1999 list. The number of networking companies making this year's list increased from four to five, and three of them made the top 10. The number of dedicated electronic commerce companies went from zero to two. Five companies on the list are publicly traded.

"Every company we've talked to in the last two quarters says electronic commerce and Web-based applications are the top services demanded by their clients," said Greg Woodford, IT services analyst at Ferris Baker Watts Inc. of Baltimore. Woodford said it remains to be seen how many companies actually have e-commerce or Web-based software solutions. Some of it is marketing spin, he said.

But "there is a fundamental difference in the way companies do business with their clients," he said.

Meanwhile, plenty of companies that aren't focused on the Internet are thriving. Vistronix Inc., a Vienna, Va., systems integration company, topped this year's list with a five-year growth rate of 14,484 percent. Last year, the company was ranked seventh with revenue of $5.3 million and 6,927 percent growth.

Vistronix is one of 22 8(a) firms that made the list. It's not surprising that so many fast-growing firms are participants in the Small Business Administration's 8(a) program, because minority-owned firms are given certain advantages when bidding for government contracts.

But Deepak Hathiramani, Vistronix's president and chief executive officer, has set up three separate units within Vistronix to ensure the company has a diversified customer base when it graduates from the 8(a) program in 2003. The company focuses on three markets: the federal government, state and local governments and the private sector.

"We didn't want to follow the typical path of an 8(a) company," he said.

Vistronix nearly doubled its revenue to $11 million in 1998 by doing systems integration and technical services work mainly for federal agencies, such as the departments of Commerce and Justice. Hathiramani, who worked on a software development team at Netrix Corp. of Herndon, Va., from 1989 to 1993, started the year with 115 employees. Because of recent contract awards, the company now has 263 full-time employees, he said. "The pipeline we had built finally started paying off," he said.

Fast 50 companies are ranked strictly by revenue growth over a five-year period from 1994 through 1998. They must have had revenue of at least $50,000 in 1994 and $1 million in 1998, and they must have headquarters in Maryland, Virginia or the District of Columbia. They don't have to be profitable or employ a certain number of workers.

Overall revenue of Fast 50 companies grew at a healthy 39 percent in 1998. Total revenue shot from $951 million in 1997 to $1.32 billion this year. The average growth rate of Fast 50 companies dropped from 3,652 percent in 1997 to 2,701 percent in 1998 ? down 26 percent, but still not too shabby.

Twenty-seven companies on the list are repeats from last year, though most of their positions have changed. Such is the volatile world of IT.

Business Impact Systems Inc. of Herndon, Va., nearly doubled its revenue from $8.4 million to $15 million. But its five-year growth rate fell from 16,198 percent to 1,468 percent, and the IT services company dropped from the top spot on last year's list to No. 29 this year.

Virtualogic Inc., a Bethesda, Md., IT services company, came in second last year with a five-year growth rate of 13,673. This year it is gone from the list altogether. Management Applications Inc. of Chantilly, Va., which had not been around long enough to make last year's list, claimed the No. 2 spot this year. It posted revenue of $5 million and sports a five-year growth rate of 9,515 percent.

"We're not an Internet company," said Jay Bushman, Management's president and CEO. The 25-employee firm specializes in data communications and connecting networks for commercial and government customers.

"We are successful [because] we are one of the best small businesses that understands wide-area networks and carrier technology," he said. "Our size allows us to give large enterprises custom solutions."

Last March, Management Applications won its biggest contract to date, a $3 million deal to upgrade local-area networks and wide-area networks for the Texas state Workers' Compensation Commission.

In early December, the firm won a three-year, $3 million contract from Value City Department Stores Inc., Columbus, Ohio. The discount department store operates more than 90 stores in 15 states. Management Applications will integrate the chain's nationwide computer network and manage it for the next three years.

"There are a lot of big companies that like working with small companies," Bushman said.





View Fast 50 List